Prince Harry And Meghan Are Suing A British Tabloid For 'Bullying' Behavior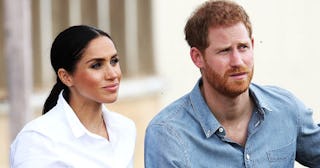 Chris Jackson/Getty
The Duke of Sussex released a personal statement attacking the tabloid for 'relentless propaganda'
Prince Harry and Meghan Markle are taking legal action against the Mail on Sunday over a claim that it unlawfully published one of her private letters written to her father. In a heart-wrenching but powerful statement, the Duke of Sussex says he and Meghan have been forced to take action: "I lost my mother and now I watch my wife falling victim to the same powerful forces."
Prince Harry says the paper published the letter in an "intentionally destructive manner" to "manipulate" and "further the divisive agenda" of the newspaper. Law firm Schillings, representing the duchess, said it has filed a High Court claim against the Mail On Sunday and its parent company, Associated Newspapers, over the alleged misuse of private information, infringement of copyright and breach of the Data Protection Act.
He says Meghan has been the "latest victim" of the British tabloid press, and that the negative stories that have been published about her have come at an extremely vulnerable time in their lives, calling it "a ruthless campaign that has escalated over the past year, throughout her pregnancy and while raising our newborn son."
He's not wrong. Google "Meghan Markle" and it's easy enough to search through hundreds of British press headlines criticizing her for her clothes, her work, and endless conjecture and speculation about her relationship with Kate Middleton — pitting the two women against each other — while she was on maternity leave. Earlier this year, the Mail on Sunday published the Duchess's private letter to her problematic father, Thomas Markle, amid their publicly contentious relationship.
The Duke and Duchess are currently on a royal tour in South Africa, where they've been receiving plenty of praise for their important work in the press. But that's not always the case for the two, unfortunately, who have had to battle their fair share of scrutiny lately. And while they are two public-facing, highly privileged adults, no one deserves to feel threatened in this way.
"I've seen what happens when someone I love is commoditised to the point that they are no longer treated or seen as a real person," he writes in his statement, referencing his mother, Princess Diana and the lifelong media scrutinization she endured. While the Duke makes certain to mention he and his wife believe in the freedom of the media and truthful reporting, this incident is entirely separate from responsible journalism.
"There comes a point when the only thing to do is to stand up to this behaviour, because it destroys people and destroys lives," he writes. "Put simply, it is bullying, which scares and silences people. We all know this isn't acceptable, at any level. We won't and can't believe in a world where there is no accountability for this."
That Prince Harry has to watch his wife endure the same overwhelming and stressful relationship with the media that his beloved mother did, which directly contributed to the car crash that ended her life, is unimaginable.
https://www.instagram.com/p/B2zFuf6lSay/
The way he concludes his letter to the public is an emotional gut-punch, too:
"Though this action may not be the safe one, it is the right one. Because my deepest fear is history repeating itself. I lost my mother and now I watch my wife falling victim to the same powerful forces," he says. "We thank you, the public, for your continued support. It is hugely appreciated. Although it may not seem like it, we really need it."