Kate's Pics Of Baby Louis On His 1st Birthday Are Adorable
by Christina Marfice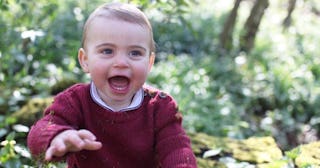 Kensington Palace via Instagram
Happy birthday to royal cutie Prince Louis
The more things change, the more things stay the same. Can you believe it's already been a year since we all waited with bated breath on Royal Baby Watch for Prince Louis to arrive? And now, a year later to the day, we're back on High Royal Baby Alert as we wait for the arrival of Meghan Markle and Prince Harry's firstborn, likely due pretty much any second now, though the Sussex royals are staying tight-lipped about the whole affair. Those royals make cute royal babies like it's their job (it kind of is, LOL).
Anyway, back to Prince Louis, who deserves the entire royal spotlight today, because it's his first birthday! The youngest child of Kate Middleton and Prince William is turning one year old, and to celebrate, his mom and the Palace both decided to grace Instagram with some rare shots of the cute kiddo. Behold, the fifth in line for the throne.
If he isn't just a dead ringer for his dad. Look at that cutie! He's so precious, you can't help but wonder why Kate's been holding out on us and not posting photos of the little dude online. I mean, yes, privacy and all that. But we the people deserve to cast our eyes upon what might be the sweetest royal baby we've seen yet (sorry, George and Charlotte, we swear we don't mean it).
"The Duke and Duchess of Cambridge are delighted to share these new photographs of Prince Louis ahead of his first birthday tomorrow," the Palace Instagram read alongside another post with a few more shots of little Louis.
And what makes these photos even more of a delightful surprise is that they aren't official portraits taken by a professional photographer, as is traditional to release on royal birthdays. Nope, Duchess Kate snapped these herself, and you can just see her love for the little guy from behind the lens.
OMG, why is he so precious? We demand answers.
All we have to say to this is that we need more photos of Louis — and his siblings — every day, not just on birthdays. You hear that, Kate? Give the people what they want, please and thank you.
While Louis has appeared to be a little camera shy in his one year on this Earth, this isn't quite the first time we've gotten a glimpse of the youngest royal. He was featured front and center in Will and Kate's Christmas portrait last year, and for good reason — look at his little smirk.
And just a few months after Louis was born last year, the Palace released his christening photos, one of the first glimpses we got of the Kensington family's newest addition, aside from the photos taken of him on the hospital steps hours after his birth and a few with his big sister Charlotte when he was just days old.
Here's hoping this is the end of Kate's social media drought, and she'll be posting all the pics our hearts desire of little Louis moving forward.