First Official Photos Of The Royal Baby Are Here, Prepare To Be Smitten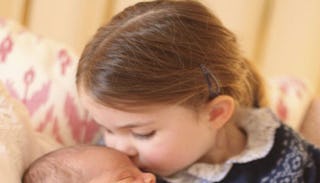 Image via Twitter/Kensington Palace
Prince Louis looks quite smashing in his first official photos
The first official pictures of Prince Louis Arthur Charles are here. I repeat, the newest Prince has finally been revealed in all his chubby glory, and he is even more adorable than we thought possible.
Kensington Palace released the new pics of Princess Charlotte and her new baby brother, Prince Louis, earlier today. In the first, Louis is looking off into the distance, obviously thinking to himself, "I really hit the life jackpot here." The other is a sweet photo of him sitting with Charlotte as she's giving him a kiss on his forehead. Both photos were taken by their mother, Duchess Kate Middleton.
The first photo was taken on April 26 when Louis was just three days old. The second with big sis was taken on May 2, Charlotte's third birthday. The Palace announced his birth, saying "The Duke and Duchess of Cambridge are delighted to announce that they have named their son Louis Arthur Charles. The baby will be known as His Royal Highness Prince Louis of Cambridge."
Oh, my ovaries.
Apparently, Louis is donning a hand-me-down white knitted outfit from Charlotte, who wore the ensemble in her first official photograph with brother Prince George in 2015, according to Express.co. I'm not sure whose in charge of remembering what babies wear and when they wear them but it sounds like an exhausting endeavor. Whatever the outfit, little Louis obviously takes after his older brother and sister in being one of the cutest kids on the planet.
Prince Louis was born on April 23, and as we all know by now left the hospital hours later in his mother, Kate's, arms. A woman who is some sort of freak of nature, looking like total and complete perfection (in heels, no less), only to go home and throw on some sweats and an ice pack for her undercarriage. Or at least, that's how I choose to believe it all went down.
The fact that Kate wore a similar red dress like Princess Diana wore the day she left the hospital with her second little prince — Harry — is telling. I guess there is something to the tradition of hand-me-down clothes and nods to the past that makes the Royal Family traditions something to respect.
It's clear by this glimpse into their growing family that little Louis will be loved and adored by his siblings. Here's to many, many more photos of all three kids living a full and happy life.