This Is What A Dad Looks Like When He's Got A Newborn At Home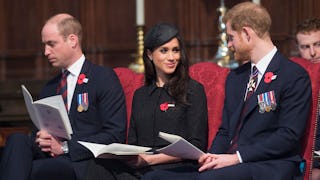 Image via Eddie Mulholland - WPA Pool/Getty Images
Prince William struggling to stay focused during a church service is peak #DadLife
The Newborn Haze. We all know it, we've all felt it. It's that thick cloud of foggy exhaustion that permanently encompasses you as you go through the motions of daily functioning when in reality, you're a disoriented mess.
Just two days after Prince William and Duchess Kate welcomed their third child, cameras caught William in perhaps the most relatable royal moment yet. Because The Newborn Haze doesn't care who you are, it'll take hold of you.
During a memorial service commemorating Anzac Day (a national day of remembrance in Australia and New Zealand to honor those who served and died in service during times of war and conflict), William can be seen desperately trying to stay, uh, focused during the service.
Here is Prince William, actual royalty, at an actual royal event. But he is also Father Of A Two-Day-Old Baby And Two Toddlers William. And royalty or no, that means he's fucking tired. Because it doesn't matter how much help you may have, having a newborn at home will suck every molecule of energy and focus from you, body and soul.
And look, the day's services began AT DAWN. Let's cut him some slack, huh?
https://twitter.com/jetpack/status/989237088649281536https://twitter.com/jetpack/status/989257699962556416
If I remember correctly — and believe me, my memories of that time are blurry — I once fell asleep with a cup of freshly brewed coffee in one hand while holding my own little bundle of joy in the other. I'm not a regular church-goer but I feel confident in saying it would be practically impossible to not fall victim to the New Parent Public Snooze whilst there.
It seems like everyone out there can relate.
While it's practically royal protocol to appear as perfect and as diligent as possible at all times, we can't help but love William and Kate even more during these intensely relatable moments. Remember that time Kate perfectly nailed The Look when trying to make sure George and Charlotte kept their shit together? Every mom out there saw that Look, recognized that Look, and respected that Look.
The same goes for William and his accidental church snooze, already deep in the hazy exhaustion of newborn life for the third time. We see you and we salute you.