Little Charlotte Stole The Show At The Royal Wedding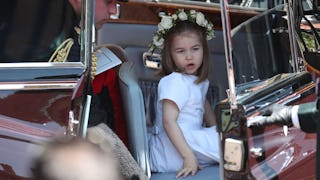 Image via Jane Barlow - WPA Pool/Getty Images
Princess Charlotte's little wave is everything
Unless you live under a rock, you probably know Prince Harry and Meghan Markle got married today at St. George's Chapel at Windsor Castle. It was the stuff of fairytales and there's been so any sweet moments to gush over. But while all eyes were solidly on the gorgeous bride and groom, there was one little Royal who equally stole the show — Princess Charlotte.
Princess Charlotte served as a bridesmaid during the ceremony of her uncle Harry and newly-minted aunt Meghan, and it's clear after watching her that she's already a pro at all of this royal stuff. She stayed pretty close to mom, Kate, who attended the nuptials just one month after giving birth to baby Louis, but it was easy to see the tiny princess just loves the spotlight.
We can barely handle this level of mother-daughter sweetness — they're simply perfection.
She was very much here for her big moment, regal car arrival and all.
She's as princess-y as it gets.
Charlotte is the second child and only daughter of Prince William and Duchess Catherine, and fourth in the line of succession to the British throne. In fact, she's the first woman in the royal family to not lose her spot in line to a younger male relative, which is something worth celebrating.
After Harry and Meghan officially tied the knot, Charlotte and the others walked out to greet the crowd. It's clear she definitely has the wee princess wave down to a science already.
Perfect royal wave withstanding, the precious kiddo was sure to remind onlookers that she is still, in fact, a typical, squirmy three-year-old.
Big brother George was also in the wedding, serving as pageboy for his uncle. The two joined eight other adorable tots in the bridal party, some the children of Meghan's friends and others close to Prince Harry. All the girls wore floral crowns and little white dresses, and the boys donned tiny versions of the Blues and Royals frockcoat, similar to Harry's military ensemble. Seriously, the cuteness is too much for anyone to handle.
Just last month, little Charlotte melted hearts all over the world when she greeted well-wishers while visiting the newest member of her family, baby Louis. As dad Prince William walked her and George into the hospital, she very politely and grandly waved at her adoring public before going to meet her baby brother.
Prince George and Princess Charlotte are slowly becoming fixtures on the wedding scene. The adorable duo joined the bridal party as a page boy and bridesmaid at their aunt Pippa's wedding to James Matthews a year ago.
I don't know about you, but I for one am looking forward to watching this adorable child grow up and into her own. And please someone keep putting her in wedding parties because these pictures are the best.
This article was originally published on