Princess Charlotte's Newest Pics Prove Kate Middleton Is Just Like The Rest Of Us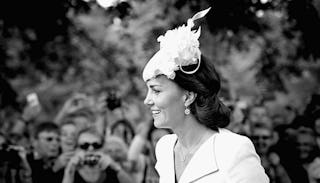 KING'S LYNN, ENGLAND - JULY 05: (EDITORS NOTE: This image has been converted to black and white) Catherine, Duchess of Cambridge arrives at the Church of St Mary Magdalene on the Sandringham Estate for the Christening of Princess Charlotte of Cambridge on July 5, 2015 in King's Lynn, England. (Photo by Chris Jackson/Getty Images)
Kensington Palace released new photos of Princess Charlotte yesterday, to mark her sixth month milestone. The photos were taken by the Duchess of Cambridge in their family home. See, Kate is just like the rest of us — snapping pictures of her adorable kids all day long.
The Duke and Duchess of Cambridge are delighted to be able to share two new photographs of Princess Charlotte. They were taken by The Duchess in early November at their home in Norfolk. The Duke and Duchess continue to receive warm messages about Princess Charlotte from all around the world and they hope that everyone enjoys these lovely photos as much as they do.
These are the first pictures of the Princess to be made public since her christening in July. Can't you just picture Kate scrolling through hundreds of photos on her phone to get to these perfect gems, then posting to Instagram, just like the rest of us? It's doubtful she runs the Kensington Palace Instgram account, but you get my drift. William says of his wife, "Catherine has been doing an amazing job as a mother and I'm very proud of her."
The family just seems so normal don't they? They even allowed little Princess Charlotte to break royal etiquette by wearing a dress in the photos: it's tradition that royal girls avoid wearing dresses until age 1. So even though we know this family is attended to 24/7 and leads a wildly different life, it's kind of fun to picture Kate doting over her kids and fidgeting with Instagram filters — just like the rest of us.
This article was originally published on