P&G Is Closing The US Soccer Pay Gap Because Apparently No One Else Will
by Christina Marfice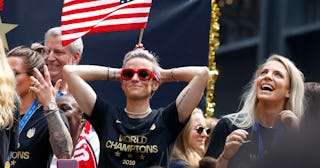 John Lamparski/WireImage
Until U.S. Soccer closes the pay gap, its sponsors are starting to step up
U.S. Soccer still has a massive discrepancy between what it pays its men's team, who have yet to ever win a championship, and what it pays its women's team, who just won their second consecutive World Cup title and record-breaking fourth overall. And we'll give you a hint: It's not the more successful women's team that makes more money.
Yep. Even though the women's team scores higher, wins more matches and titles, and brings in more revenue for U.S. Soccer than the men's team, they're still paid less. This is obviously bullshit, but their World Cup win this year has started to shine a spotlight on the issue, and it looks like change could be coming, thanks to U.S. Soccer sponsor Procter & Gamble.
Procter & Gamble has pledged to donate $529,000 to the women's team ($23,000 each for all 23 players) in an effort to help close the pay gap. This is big news, since P&G is one of U.S. Soccer's major corporate sponsors, and along with the donation, the company took out a full-page ad in the New York Times urging U.S. Soccer to "be on the right side of history" and pay its women equally to its men.
This is sending a pretty major message to U.S. Soccer, even though a donation from a company that makes billions in revenue each year does nothing to address the systemic problem here, which is that U.S. Soccer doesn't pay women equal money for equal work that men do. In 2019, it's nuts that this is even allowed, let alone happening on an international stage and still continuing.
Still, this move lines up with what star player and team co-captain Megan Rapinoe said during an interview on Meet the Press.
"These are some of the most powerful corporations, not just in sports but in the world and have so much weight that they can throw around. And I think that they just need to get comfortable throwing it around," she said.
This isn't the first time a corporation has offered to step in and fix this particular issue. Before the World Cup — and before equal pay became the hot topic it is in the wake of the USWNT's incredible title win, Luna Bar pledged a $31,000 donation for each female player to help close the gap. But while moves like this address this one pay gap issue for one women's sports team, it doesn't do anything for the systemic issue at play, which is that women earn less than men across careers and industries. What we need is pay transparency and legislation that will bring pay equity for all people.