15 Awesome Finds For Those Who Shamelessly Love Disney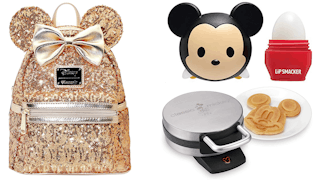 Images via Amazon
You're a shameless lover of all things Disney, and you don't care what anybody has to say about it. We totally get it. We share your love for the mouse and all his friends, and the incredible world of magic that sprang forth from the beautiful mind of our beloved Walt Disney. And though we maybe can't make it to the theme park as much as we'd like, we can add a little dash of magic to our lives with this epic Disney gear.
Because why wouldn't you want to eat waffles shaped like your favorite mouse's head?
Whether you are an expert chef or the only thing you put in your oven is frozen pizza, these too-cute-for-words Mickey and Minnie oven mitts absolutely must be in your kitchen.
You'll feel so deliciously villainous snuggling under your cozy woven blanket with all your favorite Disney villains on it.
These adorable Mickey and Minnie salt and pepper shakers will either awe your guests or make them think you're just a little too obsessed with Disney, and you're totally fine with either.
This stylish leather-look Mickey phone case is for when you need Disney in your life at all times but want to be a bit more subtle about it.
I'm getting these adorable AF Lip Smacker lip balms for myself and not sharing with my kids, sorry not sorry.
Obviously these Disney villains socks are perfect to wear while you're snuggling under your new Disney villains throw.
Subtle and cool, these simple Mickey stud earrings are a low-key way to showcase your love for Disney.
This gorgeous coloring book featuring classic Disney scenes is a perfect way for you to color away your stress and fantasize about being a princess.
Because maybe you don't want to be a princess today, but coloring is still fun and therapeutic.
This adorable Mickey-shaped travel pouch is the perfect little carry-all for when you're on the go and don't want to lug a big bag–and you can even attach your keys to it.
Go big or go home, amiright? This blingy AF Minnie mini backpack is basically everything. (Also: hehe, Minnie Mini.)
Don't worry, we got you chillin' villains covered, too, with this deliciously evil faux-leather mini backpack.
Protect your phone cables from fraying and tearing with these too-cute character-themed wire protectors.
Because you want to spread Disney magic with these cute car decals to everyone you possibly can, even to the driver behind you who is disgusted by your cheerfulness. *sprinkles fairy dust*
And there you have it, fellow lovers of all things Disney. Now go forth with your awesome new mouse gear and have a magical day!
We may earn fees from purchases made via links on this page and affiliated sites. All opinions are our own.
This article was originally published on