5 Promises I'm Making For The Holiday Season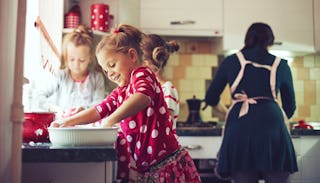 Image via Shutterstock
For the last decade, I have kept a dog-eared copy of Martha Stewart Living magazine among my collection of cookbooks. In the thick glossy pages are dozens of clever holiday themed craft and recipe ideas that every year I swear up and down that I will finally make. I pour a glass of wine and lick my index finger as I swipe through page after page of beautiful and expensive projects as I begin to make my holiday lists.
We can call this small act of creative inspiration the epicenter of my annual holiday guilt-fest.
That damn glossy magazine with all of the fancy ideas for holiday spreads mock my shabby culinary skills and tendency to procrastinate. My guilt over menus extents to self-reproach over poorly executed decorations, slap-dash party plans, and the frightful mile-long lists for holiday gifts that start out as DIY projects and end up as last minute shopping hunts.
But not this year because I am cutting off the guilt before it even starts by making these five promises to myself:
1. I promise I will not succumb to door buster savings. This includes but is not limited to Black Friday, 5 AM door busters, midnight lines around the freezing cold shopping mall parking lot, chasing down coupons, newspaper clipping savings, or any other form of penny pinching nonsense that makes me feel like I should be an economist looking to buck a financial trend instead of a mom looking for a new superman cape for a five-year-old.
2. I promise I will let my kids help. I solemnly swear that no matter how messy, screechy, impulsive, or misguided my children approach a particular holiday craft that I will bite my tongue and roll with it. Let the wreath be lopsided. Let the Christmas tree only be decorated on the lower third. Let there even be a pile of over frosted cookies waiting for Santa. Whatever it is, I will not fix it.
3. I promise I will slow down and enjoy the season. When It's A Wonderful Life comes on TV, I will not multitask by stringing popcorn or stuffing holiday cards into envelopes. When the kids want to make snow angels in the backyard I will get down on the ground with them. I promise I will get tipsy at least once while I drink spiked eggnog and put my feet up on the coffee table well past my bedtime. I will eat assorted nuts and gold-foiled kisses while telling stories with my kids.
4. I promise I will not bury myself under DIY projects. Sure, its fun to sew new flannel pajama bottoms for my kids. And yes, hot gluing sparkly white stars and snowflakes onto foam rings and knit stockings sure do make the mantle more fun. But if that list of DIY projects begins to feel like work then I will quit. I will not turn this year into a science experiment of how-much-stress-can-mom-take-before-she-implodes.
5. I promise I will not start plotting my post-holiday diet plans before the New Year. I hate it when I find myself at a holiday party and I am eyeing up the spinach dip and the Swedish meatballs but then that nagging voice in my heads starts in with the, hey, you should really go on a diet because this holiday season is going to ruin you. I promise that this year I will enjoy food. I will not limit how much or even what I eat. Bacon wrapped scallops…duh!
Last year everything in my house was a misguided approximation of how Martha would have done it. By the time I was finished I was an unhappy and exhausted mess. Who can enjoy the holidays under those self-inflicted conditions? But not this year. This is the year of making the holidays fun and magical.
Happy holidays. Now, pass me some eggnog please.
Related post: Are You A Pinterest Addict?
This article was originally published on