Props From 'The Office' Are Up For Auction So You Can Own A Piece of Dunder Mifflin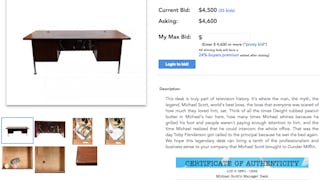 Image via ScreenBid.com
How much did you love The Office? Like, do you need to own Pam's actual desk lamp from the set?
There's something amazing going on at Screenbid: over 500 items from the set of The Office are up for auction, and you could own a little (or a big) piece of Dunder Mifflin for all of eternity.
The auction includes some of the most iconic items from the show, which was wildly popular during its nine-season run between 2005 and 2013. Whether you are looking for something small and affordable, like Phyllis' stapler and staple remover for a mere $50, or whether you want to throw down $5,000 for the huge, official Dunder Mifflin, Inc. sign, there is something for every rabid Office fan out there.
This is better than the time Blue Ivy got in a bidding war with Tyler Perry at an art auction.
Before we look at some of the best offerings, some fine print:
A 24% buyer's premium is added to each bid. Each item comes with a certificate of authenticity, so you can be totally and absolutely sure that your The Office desk lamp is not just a normal run-of-the-mill desk lamp. Shipping is $14.95 within the United States and $24.95 internationally, with large, heavy, or fragile items costing more to package and ship. Shipping takes two weeks — but it could be up to eight weeks for super-large items, like the sign we just have to have mentioned above.
Got it? Ready to start looking at what you can bid on?
First off, we have a sacred piece of The Office television history: Michael's work desk. Not only has Steve Carell had his hands all over this thing, but the drawers are still filled with Michael's effects, from a guitar pick to a scented candle. It also comes with a good number of personality-adding scratches and scuffs.
Of if you're thinking that Michael's actual desk isn't enough of a statement piece for you, we recommend you bid on the entire huge Dunder Mifflin reception desk, if you have like $5,000 to throw around.
If you're looking for something a little more portable and cerebral, the auction includes scripts to some of the show's best episodes, like "The Injury," which is right now going for $2,000. The script, written by Kelly Kapoor (aka, Mindy Kaling), contains alternate dialogue, ad libs, and bloopers.
And of course we want something to remember Dwight by. How about his 2008 Sales Associates Association Award? You can even hang it on your wall, and people might assume that you won it instead of a fictional character.
Or who wants an office birthday party poster, that brings to mind this delightful dialogue:
"Hey everybody, the party's now at 3!"
"I know, I just read it on the sign."
It's going for $900 right now, but… there is only one in the universe.
Finally, who could say no to this, other than Jan? It's the neon St. Pauli Girl beer sign that really ties the room together. We're not at all surprised that it is going for $3,400 right now.
The auction ends on October 4, so start bidding now, and keep an eye on the stuff you really need in your office from The Office. Remember: Michael has probably touched it.
Happy bidding!
This article was originally published on