Christian Protestors Leave Kids Crying In The Hallway At Drag Queen Story Hour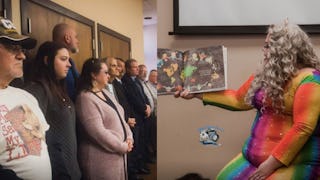 Images via Facebook
Here's how you know you're on the wrong side of an issue: you're making kids cry at the library
When the Upper Cumberland PRIDE organization decided to begin holding a monthly Drag Queen Story Hour at the local Putnam County Library in Tennessee, the first session was a happy success – teaching kids about the joys of reading, diversity, and self-acceptance. But at the second session, over 100 far-right protestors descended on the small, quiet event, crowded kids out of the room, and left them crying in the hall as they sent messages of exclusion and hate.
According to the Cookville Herald-Citizen, the Pride group followed all library policies while reserving the room for their event, and were peaceful throughout the day. Before the event began, though, fundamentalist Christian protestors arrived from two separate churches, filling the room to fire code levels and preventing kids and their families from attending the event.
A supporter on the scene shared photos of the protestors, along with a message:
"Look at these adults. They pushed their way into Drag Queen Story Hour, a children-focused event, and took up a bunch of spaces in a room limited to a capacity of 50… leaving children sobbing in the hall."
"Young children weren't able to come in, per library policy, because of these assholes," she fumes. "They then proceeded to talk during the reading, record video, and otherwise act like jerks. Then, after it was over, they refused to exit the room, and had to be told to leave multiple times by library staff."
The story hour was run by Kitty Lovelle, who performs locally in drag. Dressed in a rainbow-covered gown, heavy make-up, and a kitty-eared tiara, she read the book All Are Welcome, which is a book about inclusion, then led the children in a craft about kindness, then engaged the kids in dancing – we know, surely stuff of the devil.
Meanwhile, protestors outside held signs that said, "Libraries are for kids, not drag shows," "Leave our children alone" and "Transgender ideology is false," while another group chanted things into a PA system like, "The Bible says if you're not obedient, you will be destroyed."
"All the yelling, telling people they're going to hell. That's not what God's about," Lovelle told Fox17 Nashville.
The library didn't organize or sponsor the event, but was helpful in allowing it to take place despite protestors.
"It is a first amendment right to free speech," Putnam County Library Director Phil Schaller told the Herald-Citizen. "We have a meeting room policy, and they complied to the meeting room policy."
Drag Queen Story Hour is a non-profit organization with chapters all over the world–and protests are not uncommon. At this event, at least one of the protests was organized and led by Pastor Dale Walker, who shared his bigoted, un-Christian thoughts in several extremely wobbly live Facebook videos.
"This is what ought to happen in the Bible Belt when people are concerned about the LGBT mandate that wants to silence the pulpit, that wants to silence the church, that wants to do everything that they can to keep Christians from speaking about a Christian mandate," he said, not making much sense at all, since all the drag queen was doing was peacefully reading a book, and since he was trying to ruin their event with his hateful nonsense.
The coordinator of the Story Hour, Melissa Bean, posted on Facebook after the event, thanking everyone for their help through the stress of the protesters, including the library, local reporters, the safety team, and the UC PRIDE board.
She also specifically thanked the area's local churches, who, unlike the protest groups that drove in, were supportive of the event and showed up to help and counter-protest.
"[Y]ou stood high when your peers came out so strongly against us," she wrote. "Pastor James and the United Church of Cookeville who came out in full attire to show his affirmation…The Unity Church who donated over 100 cups of hot chocolate for the protesters…and my home church, my children's church and my first love, The Unitarian Universalist Congregation of Cookeville and their 'Yellow Swarm!' Thank you all…"
Another attendee of the event, Angee Cox Randolph, posted about her experience as well – and summed up a lot of what we're all thinking about the protestors.
"Our library is an amazing place with lots of wonders. Don't be angry at its staff for providing the stage," she wrote. "Don't be angry with the performer for wearing a costume. Don't be angry at the parents who brought their children. Don't be angry til you learn more about something you can't understand if you're angry about it. Because if you fully understand there is no need for anger. "
Does teaching your kids to love books, diversity, and themselves sound good? Then you can find a Drag Queen Story Hour near you.
This article was originally published on