PSA: Tomorrow Is National Orgasm Day. Let Us Help You Prepare.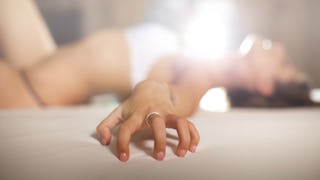 miljko: Getty
July 31st is a day when genitals around the world should all be singing a happy tune — it's National Orgasm Day, lovers, and we're really fucking excited about it.
Yes, NOD is a thing and if you were looking for a sign to have an orgasm, whether you have a partner or not, this is it.
Let's take ourselves (or each other) on a little trip to Orgasmville, shall we? Don't say you don't have time because you're so busy. If you want an orgasm, you have time to have an orgasm, you lying-liar face. You owe it to the holiday, and your crotch, to get your rocks off, if you're feeling frisky.
Maybe you see a little oral in your future; it's a good reason to text your partner right now; get them a little hungry with an appetizer, know what I'm sayin.'
Make a date night and go to Applebee's, walk around a home improvement store, then do it in the back of the minivan, dammit. This is the day of jetting your juice, and you deserve to be juiced.
If you don't have (or want) a partner, don't let that stop your from celebrating. Plan a timeout for you and your kitty to get reacquainted.
Scary Mommy spoke with Dr. Laura Deitsch, resident sexologist of Vibrant, an online platform for adult products with proceeds funding Planned Parenthood of the Rocky Mountains who reminds us women have 8,000 nerve endings in our clitoris and asks, "wouldn't it be a shame for them all to go to waste?"
Eight. Thousand. That's twice as many as the tip of a man's penis so if you have a vagina, you win.
According to Dr. Deitsch orgasms can "increase happiness, reduce depression and anxiety, manage menstrual pain, boost self-esteem, and most importantly, learn exactly what makes you tick."
So if you need to, give yourself a boost in the shower, grab that shower head and have a party with your damn self.
If you aren't giving yourself the O for health reasons, then do it for pure pleasure. I don't know about you, but mid-orgasm I find myself thinking, Why don't I do this three times a day? This is glorious.
But if you really don't have the time to put a deposit in your coin purse, we've got the goods.
And by that I mean some fun toy recommendations for you to use solo, or let your partner do the driving when you can spare a few moments to whip up a cream pie. Buy one (or three) today to commemorate the holiday, and use it later.
The ergonomic design makes this toy very versatile for pleasure anywhere on your body or your lucky partner. This hand-held toy doesn't steal the show but rather takes pleasure up several notches during the main performance. Those with a vulva who enjoy using fingers for external masturbation will find that this vibrator is a seamless extension of the hand. Pliability allows you to customize the pressure for your body and where you're at in your pleasure journey – you can start gentle, kick things up, then bring them back down again to make the moment last.
Created by women for women, The Fin vibrator is discreet and equipped with a powerful motor that supercharges your finger for ergonomic-designed pleasure solo or with a partner. The Fin features a two-sided bulb – one side is flat and plush and the other is pointed for more specific and targeted pleasure.
This is a must have for people who have a clitoris. Designed to mimic oral sex, its gentle pressure waves surround the clitoris for an unforgettable masturbation moment. Play with your pleasure intuitively using the buttons on its belly. With 11 levels of pulsing intensity available, testing and ultimately creating suction-based orgasms that blow you out of the bath (oh yes, it's waterproof).
Get your hands on your partner, or yourself, and make this a National Orgasm Day you won't forget.
This article was originally published on