This PTO's 'Forget My Face' Fundraising Is A Great Idea
by Valerie Williams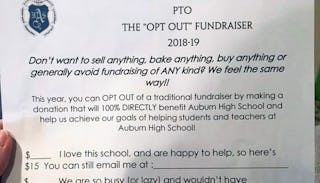 Image via Facebook/Brianna Leggett Woods
PTO gives parents the option to be "forgotten" for this year's fundraising activities — for a price
It's a new school year and if you're anything like me, you're bracing yourself for the Parent Teacher Organization's (PTO) yearly plea for volunteers and fundraising commitments. After seven years of kids in school, I'd be willing to pay actual money so the kind PTO ladies would leave me be. And thanks to one clever PTO, that's now an option for the lucky parents at an Alabama high school.
Do I love my kids? Yes. Do I want them to have a number of fun and enriching events throughout the school year? Sure do. Do I have time to actually show up and volunteer or peddle fundraisers to my family and friends? That would be a negative, and the Auburn High School PTO in Auburn, Alabama is fully recognizing that fact with their fundraising letter for the 2018-2019 school year, which has gone viral after parent Briana Leggett Woods shared it on Facebook.
"Don't want to sell anything, bake anything, buy anything or generally avoid fundraising of any kind? We feel the same way!" it reads. The letter then gives parents three options:
"I still love this school and am happy to help, so here's $15. You can still email me at ______"
"We are so busy (or lazy) and wouldn't have responded to any phone calls, emails or sign up genius lists all year, please enjoy my $25 donation."
"Here's $50 or MORE to forget my name & my face and not ask me for anything else all year except to complete this form!"
DING DING DING for #3 over here. And full disclosure, my kids' school PTO is actually amazing and not remotely pushy and though their letter isn't this cheeky and fun, they don't pressure parents to volunteer for anything or jump on any fundraisers. We just pick things we can do at the beginning of the year and are contacted as the events pop up. But the idea that I can go fully guilt-free by handing them $50+ and not volunteering to do or make anything? I would be all over that shit.
In these modern times, plenty of parents have full-time jobs and a ton of commitments that make volunteering for school almost impossible if we also want time for the occasional gym trip, grocery shopping, and cleaning our houses once in awhile (LOL). Also, some of us are introverts and the idea of trying to make awkward small talk with fellow adults is basically a nightmare. For some quiet mommas, the idea of paying $50 to never face that again sounds like heaven.
Woods says the schools' parents are all about the letter, written by PTO president Emily Sorrell, who Woods says is a fellow busy mom.
It's nice when the PTO gets it, for sure. I love helping my kids' school, but I have a very full plate and while I will likely do an event or two this year, I would feel much better just handing them some money so I don't also have to force my relatives to buy $17 rolls of questionable quality wrapping paper or make brownies for the bake sale. Everyone wins.
Kudos to the Auburn PTO and let's hope this idea catches on like crazy so we can all choose to be "forgotten."
This article was originally published on