Motherhood Comes Naturally Pub Day!
by Scary Mommy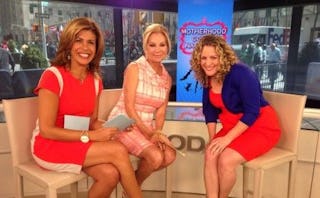 Someday, I will get through every tweet and every message and every text and every Facebook post and every missed call and thank you each of you personally for your support. But because I can barely keep my eyes open, it won't be tonight. Until then, an enormous mass thank you to every person who bought the book, spread the word, shared my excitement and supported me today. From the bottom of my heart, thank you.
In case you missed them, here are the Today Show clips. The first one is from the eight o'clock hour where I took questions from Today fans who seemed to think I was some sort of parenting expert. Um… sorry folks!
And then the ten o'clock hour where Kathie Lee once again proved to be a huge Scary Mommy fan…
She can barely contain her excitement. Also? I'm pretty sure she was wasted.
I did find Matt in the green room and demand that he take a picture with me. He looks a tad frightened as well.
Maybe it was my bodyguard who scared them.
(Best freeze frame ever.)
But, really, it was a blast. Thanks again for the good wishes and for tuning in!
This article was originally published on