Publix Censors 'Summa Cum Laude' Grad Cake And The Internet Can't Stop Laughing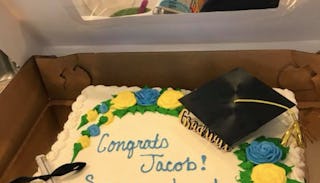 Image via Facebook/Cara Koscinski
Um, Publix, we don't think that word means what you think it means
Ah, graduation season. It's a time to gather with family and friends, take photos, celebrate years worth of accomplishments and eat cake. What's not to love?
Unfortunately, for one family, part of that equation didn't turn out the way they expected. Proud mom Cara Koscinski posted on Facebook about the graduation cake she ordered for her son, Jacob, who, with his 4.79 GPA, was leaving high school Summa Cum Laude. Koscinski naturally wanted to celebrate Jacob's huge accomplishment with a special message on his graduation cake, but Publix's software had other ideas.
Yep. In the "Summa Cum Laude" Koscinski requested be written on the cake in blue frosting, Publix's software singled out the "Cum" part, labeled it profane and censored it, resulting in the cake reading, "Congrats Jacob! Summa — Laude."
Oh boy.
Really, computer system? Really?
It's totally OK if your first reaction was to snort laugh (mine was), but the family that ordered the cake was outraged, and rightfully so. This was a day to celebrate a young man's huge accomplishment, not feel totally embarrassed. Koscinski told news outlets the entire family was humiliated by the incident, particularly when she had to explain to her 70-year-old mother, Jacob's grandmother, why the word was censored.
OK, yes, explaining to conservative granny what "cum" means could make for an awkward mid-grad-party moment. Ugh.
At the end of the day, the family was there to celebrate Jacob's huge achievement and it sucks they feel like the party was ruined. The rest of the internet, however, had other thoughts.
As for the Koscinski family? Reports say they were refunded for the $70 cost of the cake, and Koscinski told Scary Mommy Publix apologized and gave her a $150 gift card. The mom admits in an interview with HuffPost that she and Jacob are now "laughing about it," but that she's probably going to avoid Publix for a little while. The grocery chain has also publicly stated that it fixed the system that caused "Cum" to be censored in the first place, so this won't happen again.
Good news for the Koscinskis, but not so much for those of us who found this side-splittingly hilarious.
This article was originally published on