After Hurricane Maria, Puerto Rico Is Facing A Maternity Care Crisis
by Wendy Wisner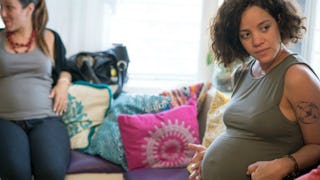 Angel Valentin / Stringer / Getty Images
It's been two months since Puerto Rico was hit by Hurricane Maria, a catastrophic storm that decimated and flooded the island, leaving millions of people without electricity, food, or other basic resources. The island is slowly picking up the pieces, but as the New York Times reports, Puerto Rico's power grid is still only operating at 50%, leaving most Puerto Ricans without power even to this day.
With many still out of work, resources thin, and so many families faced with the daunting tasking of stitching their lives back together, the people of Puerto Rico are in the middle of a humanitarian crisis.
One group that has been severely impacted by the crisis is the island's moms and babies. According to a recent article in VICE, most maternity wards in Puerto Rico continue to be strapped for resources, and conditions on the island make it difficult for women to reach their doctors.
Food is limited, and 20% of families still don't have clean drinking water. On top of that, many women are afraid to travel because of the potential for Zika-carrying mosquitoes that they fear proliferated the island after the flooding.
As a result, according to VICE, many women are finding themselves delivering their babies at home, alone, especially in poorer, more rural communities.
All of this is simply heartbreaking and unconscionable.
"The system is just overwhelmed. The doctor-to-patient ratio is too high," says Ted Held, an OB-GYN with Circle of Health International, an organization that sends medical professionals to maternal/child health crisis zones.
Dr. Held did a recent assessment of the state of Puerto Rico's maternity care system and says that things are dire. Many pregnant women are living without food or clean water, and many don't have enough money for gas to get to their appointments.
Additionally, Jose Cordero, formerly the dean at the University of Puerto Rico's Graduate School of Public Health, tells VICE that he's concerned the extreme levels of stress felt by expectant moms in Puerto Rico may contribute to a spike in premature births.
"We know that an environment where you go through a disaster is an extremely stressful environment, and so one of the concerns is that the stress could be a factor for early delivery," said Cordero. "At this point we don't know yet. But that's something that we are looking for."
Does all of this not just shatter you into a million pieces? As a mom, when I hear about my fellow moms and their new, precious babies struggling and facing possible dangers, I can't help but want to do something — anything.
So, what can be done?
According to VICE, Circle of Health has donated over 4,000 pounds of maternal health care supplies to help the medical providers in Puerto Rico, which is incredible. You can join the cause and donate to Circle of Health here.
Now more than ever, birthing moms in Puerto Rico who can't make it to the hospital are relying on the services of midwives to help them. As VICE explains it: "Experts in public health say the need for midwives as first responders during and directly after natural disasters is significant. Midwives are especially helpful because they can work with few resources and they are trained in dealing with stress and trauma."
There are several ways you can support the efforts of these courageous midwives.
A volunteer midwife organization in San Juan called Mujeres Ayudando Madres, or Centro MAM, has been sending out midwives to help families for free, aiding home births when needed, and offering breastfeeding help (which can minimize the risk of a baby drinking formula made with contaminated water), providing Zika-prevention education, and basic maternity care and postpartum checkups. You can support Centro MAM by contacting them via their website.
And check this out: Two student midwives from Washington and Oregon have taken matters into their own hands and started a fundraiser to ship supplies to midwives in Puerto Rico. Tamara Trinidad and Rosemary Loperena are both midwives-in-training in the Pacific Northwest, but they grew up in Puerto Rico and still have family and friends there. These two fantastic women have raised almost $2,000 — and counting — to send supplies directly to the Puerto Rican midwives they are connected with.
"The lack of open hospitals in the Island and the increase of OB & GYN migrating to USA, have impacted the access of health care to all expectant families," Trinidad tells Scary Mommy. "Our qualified midwives are doing the impossible to reach out to the communities to provide the care that these families deserve."
Trinidad says that these midwives need the basics, like heat, clean water, and extra lights. But they also need mosquito protection, nutritional supplements, adequate health care supplies, and so much more. You can support this amazing grassroots campaign here.
Trinidad also recommends supporting a group called Help Puerto Rico, which she describes as "a collective of volunteers," who are making trips from New York City to Puerto Rico "to bring relief items to various marginalized communities," including midwives on the ground. They have raised over $25,000 in the past month, which is amazing, but there's still need for more resources.
The silver lining to Puerto Rico's ongoing humanitarian crisis is that there are many truly good people out there who are stepping up to the plate and giving their everything to these devastated families and communities.
We all need to pitch in and consider helping. Most of all, we can't let Puerto Rico slip off our radar. The crisis is not over yet, and the people of Puerto Rico will likely need help and support for years to come as they heal and rebuild their lives.
This article was originally published on