These Fancy Puffer Jacket Gowns Will Keep You Warm AF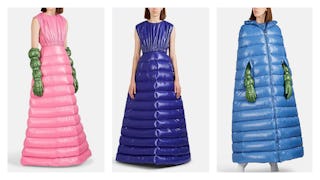 Image via Barneys.com
These puffer jacket gowns are for when you want to stay warm and look like a bag of trash at the same time
If you like to stay warm, look fancy, and have a fair amount of disposable income to spend this winter — you're in luck! Because puffer jacket gowns are a thing that exist, and they've got a hefty designer price tag. Even though they kind of make you look more like a Hefty bag.
Puffer jackets — the actual coats — can be amazing. They're often more lightweight than they look, they keep you incredibly warm, and it seems like they're always in style.
These gown things? Absolutely not.
Other than for sleeping outside under a tent, the purpose of these floor-length, A-line, ski gowns is a mystery. But that isn't stopping Barney's from selling them for $2,000-$3,000 a pop.
Here's how the site describes them, made by retailer Moncler Pierpaolo Piccioli: "This down-quilted puffer dress is assembled from pink lacquered-effect tech fabric. Exploring religious symbolism, this piece for Moncler's first Genius Project collection features a sculptural silhouette and long, full skirt."
Uh-huh. And the green puffer gloves are the perfect addition to this ensemble. Somehow the gloves — which retail for $1,500 — are sold out.
If you're not into the whole gown look, there is an option that's a cross between an actual floor-length coat and gown — behold, the puffer cape.
If you like moving your arms in any capacity — well, you're out of luck. Honestly, the gowns and the gloves here come across like some dystopian version of Jane Jetson doing the dishes.
The most laughably bad part of these puffer jacket gowns? Aside from them being, well, puffer jacket gowns and having an aesthetic even the most avid of outdoorswomen would scoff at?
They're only available in a size 1. Sorry extremely rich, average-sized women and plus-sized women (or just literally anyone in a size 2 or beyond) — you cannot rock this sleeping bag/garbage sack lewk.
Perhaps the concept (and price tag) of High Fashion is beyond me, but I think I'll stick with my respectable, affordable, knee-length, regular ol' puffer jacket. With sleeves. And $2 knit gloves.