Be Still Our '80s TV-Loving Hearts: Punky Brewster Is Getting A Sequel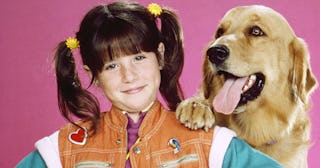 NBC
A whole new generation of TV viewers will get to learn about 'Punky Power'
Pop culture icon and 1980s sitcom heroine Punky Brewster will be back to grace our television screens and fill up our hearts once again. The beloved show is getting the reboot treatment — in the way of Fuller House — and the show's original star, Soleil Moon Frye, will once again be the leading character.
It was reported earlier this week that a sequel to the 1984 NBC sitcom is officially in the works, and it couldn't be more exciting. Frye tweeted the news herself, and honestly — her enthusiasm has always been infectious AF.
The original multi-camera series centered around Punky, a bright young girl raised by her foster dad, Henry. According to Deadline, in the multi-camera/hybrid reboot, Punky is now a single mother of three trying to get her life back on track when she meets a young girl who reminds her a lot of her younger self.
Punky Brewster ran for four seasons when it was originally on-air. It received three Primetime Emmy nominations — two for Outstanding Children's Program. What was so great about the show is that it wasn't afraid to tackle serious issues kids and families were facing. It also showed that not all families look the same, and not every child has two parents or even biological parents. The show even brilliantly tackled topics like The Challenger space shuttle tragedy, drugs (just say no!), and pet loss.
While I was born the year after Punky Brewster premiered, I watched it obsessively once it was in re-runs when I was a kid. I remember wanting to be as cool as Punky was, and admiring the dynamic between Punky and her BFF, Cherie. Punky's sass and self-assuredness was enviable and the show did not skimp on the Kid Dramz — one episode even had Punky sneaking out of the hospital pre-appendix removal. Unlike the much more Leave it to Beaver-esque Full House, Punky Brewster was actually relatable.
The internet is very much here for the reboot, too. Lots of people have been chiming in their excitement and support about seeing where grown-up Punky is these days.
https://twitter.com/jetpack/status/1136037953505882112
https://twitter.com/jetpack/status/1136056190046285825
Of the original sitcom's main cast, only Frye, Cherie Johnson, and T.K. Carter (he played their elementary school teacher Mike Fulton) are alive today. How awesome would it be to see Punky and Cherie together again, navigating life and love and careers while dressed loudly and eccentrically like old times? SIGN ME UP.
No word yet on when the show is planning to premiere, or on what network, but it's coming regardless! Though it sometimes seems like we're living in the Golden Age of Reboots, here's hoping Punky and pals are just as enjoyable in 2019.