Here Are A Bunch Of Tiny Puppies In Halloween Costumes To Soothe Your Soul
by Thea Glassman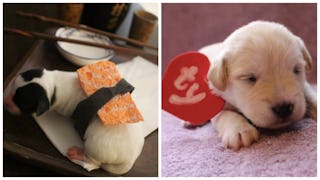 Image via Twitter/Blue Heron Farm
A farm has created the teeniest, tiniest puppy Halloween costumes
Need a little bit of sunshine in an otherwise completely bleak, awful time? Blue Heron Farm, a Texas-based humane goat dairy, has been fostering a mom dog named Harriet and her litter of puppies. While the pups await adoption, Blue Heron Farm owners Lisa and Christian Seger have been dressing them up in the tiniest, cutest Halloween costumes you'll ever see. And, lucky for all of us, they've decided to do 31 days worth of costumes.
The puppies are still too young to be adopted (they're only three weeks old), so the Segers have decided to make the most of their time with these tiny furballs. Lisa designed and handcrafted Halloween costumes for all five pups and, given the current painful political climate, it's wound up becoming a surprisingly gratifying experience.
"Making the costumes and taking the photos wasn't meant to be a 31-day project, but it kind of snowballed," she tells Bustle. "Making them is therapeutic to me when I'm feeling anxiety about politics and other current events, and people who have been on the receiving end of the photos seem to feel the same. I stuck with it because figure we can all use something happy to look forward to."
There was a sushi costume.
A teeny, tiny mermaid (aka a "merpup"). Be still my heart.
Even more sushi. My heart has officially exploded.
Yup, we did indeed need this.
A REAL-LIFE BEANIE BABY.
Is there anything cuter than a sleepy pup dressed as a turtle? No, I think not.
Well, unless it's a sleepy pup dressed as a lion.
Buckle up, because Seger also created group costumes.
Unsurprisingly, these pictures have made the entire internet squirm with so much happiness. Here is just a small sampling of the comments:
https://twitter.com/jetpack/status/1054605789460131840
Now, for a little dose of reality. "As adorable as the pups are," Seger told Bustle, "they are a sign of a deep problem of pet overpopulation. We want people to remember to spay and neuter [their pets]."
The Segers hope that the photo shoot might prompt someone to adopt these tiny furballs. If you don't quite have room in your house for a new dog but you want to help out, you can donate to 4 Paws Farm, the rescue with Harriet and her puppies came from. It'll be extremely valuable for the donation-funded organization and a small token of gratitude for all the furry goodness they've brought into our lives.
This article was originally published on