Quarantine Brought Us Closer — And We're Not Giving That Up When Things Get Back To Normal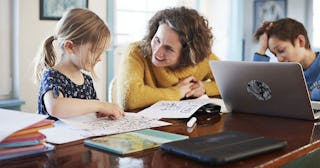 Klaus Vedfelt/Getty
When they announced schools would be closed in my area for two weeks in March when COVID-19 was first making its way through my state, I snapped a picture of my kids and sent it to my sister with the caption "I'm not going to make it through this."
My oldest was sprawled out on the sofa in his boxers, sans shirt. My youngest was lying on the floor. They were both staring at their screens while bowls and silverware decorated every side table in our living room.
They were bubbling over with excitement about their "break."
I was not.
I had no idea how I was going to manage working with them being home during the day while they did their school work. This wasn't summer vacation. They still had responsibilities, and I had to be there to help them figure out online learning.
I also knew they'd need a few of my yelling outbursts – er, encouragements — to keep up with the workload. Not to mention clean up after themselves and not eat all the food.
The first few weeks were rough under my roof. I heard the same from my friends, family, and coworkers.
But somewhere around week five, things changed in my house.
I think we realized we were the only people we were going to see for a while and the four of us could either make the best of it, or go down in flames.
All the closeness is making us just that—closer. And we aren't the only ones. Surveys have shown this experience is common among families these days.
Now, though the days of strict quarantine have eased — we feel okay leaving the house as long as we mask up and aren't entering into a big crowded place — there are some quarantine behaviors that we're still going to carry over.
For us, one thing that helped ease the stress and anxiety of this pandemic was having dinner together every night they are with me (I share custody with their father), versus a few nights a week. Because their social life, school and sports obligations were nonexistent, we were able to see what it felt like to catch a breath. It felt good, and my three teenagers agree it's nice to keep doing that.
I'm not saying I make a home cooked meal every night, it means we grab what we want and sit down and eat together.
I couldn't get my hair done at a salon, so my daughter has trimmed mine for me and helped me with coloring it and given me styling tips. My salon is open again and I have not returned — my daughter is literally a hairdresser in training, and she does such a good job, I'm not going to trade that in to sit in a salon chair for a few hours.
With less running around, I'm able to get my work done by Friday around noon and we drive a half hour to the closest Chipotle for lunch. It's worth it — sitting in the car eating our chicken bowls and burritos is a welcome change of scenery and not something I'd normally get to do with them on a weekday. This is a tradition we still do since my kids are done with their Zoom classes around then. It just kicks off the weekend on the right foot and makes it feel a bit longer.
Our weekday lunches became fancy since my kids were home from school. I started grilling meat and vegetables, or we make wonton soup. It can't see myself going back to eating my lunch over the kitchen sink in a rush now that I know how wonderful taking a longer lunch can be.
This isn't even something we'd do on a vacation, because we'd have bigger plans we'd be rushing to get to. Funny, I never noticed how the more I try to do with — and for — my family, the more it takes away from actual quality time together.
I can hear my kids' discussions now that they are remote learning. They talk about their dreams— my daughter had a dream she was feeding baby zebra cucumbers. My son is the COVID-19 expert and brings her up to date on all the statistics.
They've found a mama chipmunk in our back yard who's had babies. I'm sure this has happened every year, but we've been too busy to notice.
Instead of frowning on chores like helping me wash the car or planting my mail-order bulbs, they are happy to jump in and help. Because of the extra hands, I have more energy for game night — one more thing we may not have discovered we like, had we not been forced to slow down.
The quarantine didn't go how I thought it would. I was so full of fear and dread, not sure if I would make it through a day without wanting to run away. Now, except for wanting COVID to die, I find myself not wanting our life to quite go back to the way it was pre-COVID, even as we inch toward normalcy.
Here we are, more close-knit than ever because of a horrible pandemic. And though there are certain aspects of life I can't wait to get back to, I wouldn't trade the little things that have brought my family closer for the world.