U.S. Student Sentenced To Jail Time For Breaking Quarantine Rules In Caymans
by Christina Marfice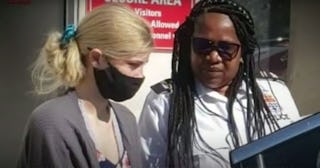 Good Morning America/Youtube
Skylar Mack's family is speaking out — and appealing to Trump to intervene — after she was jailed in the Cayman Islands for putting people's lives at risk by breaking quarantine rules
In case anyone needs a refresher, COVID-19 has killed more than 1.7 million people globally. It's a highly contagious and extremely dangerous disease, and the best way to keep people safe is to stop it from spreading in the first place, by wearing masks and distancing from other people. To that end, many places around the world have enacted strict quarantine requirements for visitors. But a U.S. teen who broke those rules in the Cayman Islands was sentenced to jail, and her family is trying to fight it.
Skylar Mack, an 18-year-old student from Georgia, went to the Cayman Islands in late November to visit her boyfriend, Vanjae Ramgeet, a resident there who was competing in a jet ski competition. In order to enter the Cayman Islands, Mack had to agree to a strict 14-day quarantine. She was fitted with a geofencing bracelet and issued a cell phone to help the country track her movements and ensure she stayed self-isolated for all 14 days.
But two days after her arrival, Buzzfeed reports, Mack removed her bracelet and left quarantine to watch her boyfriend compete. Local news outlets reported that she was at the event for more than seven hours, interacting with people, moving through crowds, and not even wearing a mask.
Mack and her boyfriend were both taken into custody and pleaded guilty to charges of breaking the country's quarantine rules. They were fined $2,600 each. But the country's public prosecutor argued that that punishment was too lenient. It wouldn't deter future visitors from breaking their quarantines, he said. He also brought evidence that Mack's actions were "entirely deliberate and planned, as evidenced by her desire to switch her wristband the day before to a looser one that she was then able to remove." Her actions were "borne of selfishness and arrogance," he said, adding that Mack's boyfriend, who is local to the Islands, should have known better.
Penalties for breaking quarantine laws in the Cayman Islands can result in fines of up to $10,000, and up to two years in prison. Mack was eventually sentenced to just four months.
Now, though, her family is trying to fight back. Despite the fact that their daughter is an adult who broke international law intentionally, they're doing everything they can to avoid her facing the consequences for her actions — even appealing to Donald Trump to intervene on her behalf. The couple's lawyer, Jonathon Hughes, is planning to argue before a court of appeals for a more lenient sentence. "This particular sentence would have a particularly harsh effect on her, and the court ought to have considered the individual before it, not just the crime," he said.
"She cries. She wants to come home," Mack's grandmother Jeanne told reporters. "She knows she made a mistake. She owns up to that, but she's pretty hysterical right now." Jeanne wrote to Trump herself in defense of Skylar. "We're not asking for her to get an exception," she said. "We're asking for her not to be the exception."
Her father, Dennis Mack, added, "I don't know why someone is taking it so personal or [has] such a vendetta toward my daughter or toward an American 18-year-old girl who was there on a vacation and who made a mistake. It's absolutely heart-wrenching that you take someone so special. … The rest of her life is getting torn away from her."
To be fair, it's four months — certainly not the rest of her life. Considering how many people she could have been hurt or even killed, and that the law allows for up to two years in prison, it's still an extremely lenient sentence. Hopefully, Mack's story will help deter other people who might break quarantine rules and put more lives at risk.