Allow The Guys From 'Queer Eye' To Snap You Out Of Every Bad Mood You Have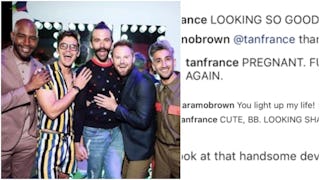 Image via Instagram/QueerEye
The cast of 'Queer Eye' has the purest love for each other on social media
Though it may not always seem like it, true beauty does, in fact, still exist in the world — in the form of the social media accounts of each of the cast members of Netflix's Queer Eye reboot. They are honestly the most supportive, loving group of friends in existence — just check out their Instagram accounts and you'll surely agree.
Bobby, Tan, Antoni, Karamo, and Jonathan are all worthwhile Instagram follows for a variety of reasons. First, they're beautiful human beings to look at.
But even more than that, they're honestly just the sweetest. They consistently comment on each other's Instagram posts in the most supportive, genuine, and hilarious ways. If this post doesn't convince you to follow each of them and bask in their mutual adoration for one another, then let me just quit my job right now.
Take this photo of Antoni, everyone's favorite avocado chef, for instance.
ADORBS. But even more adorbs? This:
Karamo and Jonathan, please be my friends. Because mine do not comment on my posts like this, so they're pretty much canceled moving forward.
Speaking of Karamo:
https://www.instagram.com/p/Bji0ORAlOqM/?hl=en&taken-by=karamobrown
If there is a better, more perfect specimen of beautiful human, I have yet to see it with my own eye holes. His castmates clearly agree, because:
They just immediately fill up each other's posts with positivity. Let's keep this tingly train going, shall we? On to Tan.
https://www.instagram.com/p/BiTJasSgox5/?hl=en&taken-by=tanfrance
The resident fashion expert, Tan France is always serving serious looks in his photos. And, bless them, his pals are always ready to serve up the compliments.
Ah, Bobby. My favorite fair-haired interior style connoisseur. (Side note: if you haven't watched the Queer Eye episode where they makeover a Christian minister and Bobby has a heart-to-heart about his religious upbringing — hoo boy, I highly recommend it. Your heart will explode.)
https://www.instagram.com/p/Bi270QYAdT_/?hl=en&taken-by=bobbyberk
Even on a post that is clearly #sponcon, the Queer Eye cast can't get enough.
And last — but far from least — is the love they all have for Jonathan. And how could they not? From his beautiful, flowing locks and that borderline Jesus face to his heartfelt happy exterior and endless positivity, it's impossible to not show your love for Jonathan.
Case in point:
DYING. I swear to God, I laughed at Tan's comment for a hearty 10 minutes.
Recently, Olympic figure skater Michelle Kwan started following Jonathan on Instagram (see? everyone wants to follow these guys) and his reaction — as well as Karamo's — will make your entire goddamn day.
It might just be the purest thing on the internet, and we are all better people for having watched this.
Real talk: many of us spend a lot of time on social media. Personally, I spend more time than I probably should (outside of work) for my own mental health and well-being, but such is life. Finding joy in social media is a literal crapshoot and spending hours scrolling through timeline after timeline every day sometimes feels like a Dementor has sucked every ounce of happiness from my soul. But I never, NEVER feel that way when a post from each of these wonderful humans pops up on my Instagram feed.
The second season of Queer Eye premieres on Netflix on June 15 , and I for one cannot wait to indulge in the quality self-care that is this show. These guys make you feel like you're wrapped in a big, therapeutic, good-smelling hug — they're truly the balm for any wounded soul.
This article was originally published on