I Quit Online Dating, And I Couldn't Be Happier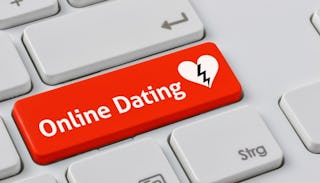 Zerbor / Shutterstock
You might call me old-fashioned. I still carry a calendar—you know, the kind you write in with a pen. I was in my mid-20s when eHarmony and Match hit the scene and changed dating forever. This is back when all my single friends had accounts, but it was still hush-hush. After attending a few weddings of successful online matches, I was sold.
I spent a Sunday afternoon with a fellow singleton filling out our online profiles. I answered multiple choice and essay questions about my personality and values and what I was looking for in a spouse. I set up a new email just for my online matches and jumped right in, convinced I was about to find that special someone.
The excitement waned as I carefully reviewed and contacted my potential matches. But no one responded or initiated contact with me, until one day Gabe asked me the first round of multiple choice questions. I liked his profile, and he liked mine. My hopes went soaring! I carefully responded to his questions with the input of my friends.
Gabe and I progressed through each stage of the online dating system, and I began to fall hard for him. We began emailing daily when the ax fell. One weekend, I learned my father had been diagnosed with an late-stage cancer. I answered Gabe's email the following Monday with my news and casually mentioned that my father and I had a complicated relationship.
Suddenly, after multiple daily emails, it was crickets. I began to obsessively reread my email, trying to understand what I had said that made him drop off. I had my friends read (and reread) the email too, because for the life of me, I couldn't understand what I had done wrong.
Finally, I sent an email asking him if he was OK. Fast-forward a few more long days, and Gabe responded in one cryptic sentence: "I don't date girls who have complicated issues." That was it. He never communicated with me again.
I was broken-hearted as only a young 20-something can be. With my confidence shaken, I quit online dating. In my time offline, I went on a few dates, had a crush or two, and seriously dated an old college friend, but as I entered my early 30s, a dear friend convinced me to give it another try. My friend was determined to find a man with an accent and had found a new dating site specializing in the global dating market. Reluctantly, I agreed.
So a decade later, there I was again, spending a Sunday afternoon creating the perfect profile, answering the questions just so, and combing through my photos to find just the right picture to add. My friend and I posted our profiles, and soon my her inbox began to fill. She started emailing with potential suitors right out of the gate. My inbox filled up too, but with men who talked about wanting a submissive wife or one who has a perfect body, or they were more interested in my American citizenship. I sent out questions to men who, based on their profiles, seemed like good potential matches. But, again, it was crickets. As my friend began to exclusively date one of the guys she met online, I disabled my account.
Following two big moves in the past seven years to D.C. and Denver, respectively, I signed up for other online dating websites, thinking, How else do you meet someone? But after a few failed dates or no responses, each time I would disable the account.
Now, at 38, I have finally realized something. Online dating is not for me. Yes, it has been incredibly successful for many people (and many weddings I've attended are a result of online dating), but it's not for me. I don't like how you can create a profile that isn't necessarily an honest reflection of who you are. Being able to sit with my friends and create answers feels contrived. I'm not putting my real self out there, and I don't feel I am always getting the real person on the other end, either. Then there's the sense I get that I am shopping for a date. And it's just too easy to ghost someone.
So after 13 years and seven online dating sites, I am done. When it seems like everyone else is finding their perfect match online, I have decided to give it all up. Since logging off, I am the happiest I have ever been in my single life. I have stopped talking about when I meet the person. I have no prospects, but in choosing to log off permanently, I have given myself the gift of the present.
Instead of spending my valuable time looking through online profiles, I am spending time doing things I love like hiking and writing. I'm spending more time with the people I love who are right here in front of me. A deeper joy has taken root in giving myself permission to stop looking and simply be where I am.
Now that I am no longer keeping my nose in a database, I find myself looking up from my device and smiling more at random strangers. You never know where a smile might lead.
This article was originally published on