All The Horrifying Details On R. Kelly's Federal Child Porn Charges
by Christina Marfice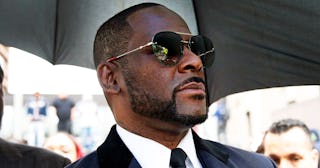 Nuccio DiNuzzo/Getty
R. Kelly is now facing federal charges in addition to Illinois state charges for sex abuse, trafficking, and child porn
R. Kelly was walking his dog in Chicago Thursday night when he was arrested again, this time on federal charges — 13 counts including sexual exploitation of children, child pornography, and conspiracy to defraud the United States. This is in addition to 10 charges of child sexual abuse he already faces in the state of Illinois. This case continues to escalate in the wake of the harrowing Lifetime documentary Surviving R. Kelly, in which several girls came forward to recount cultish environments in which Kelly allegedly cut them off from their families and subjected them to years of abuse and trauma.
In the new federal case, prosecutors say Kelly, his former managers, and some of his employees went to extraordinary steps to conceal the fact that Kelly was having sex with underage girls, including telling the girls themselves to lie to police, and sending one girl's parents overseas so they wouldn't be available for police questioning during one investigation. They also say he's shelled out hundreds of thousands of dollars to women in an attempt to recover sex tapes that show him having sex with teenage girls.
On Friday, federal prosecutors in New York unsealed an additional five-count indictment against Kelly in another case that accuses him of building what essentially amounts to a sex cult for underage girls, where he recruited young teens so he could have sex with them, also known as rape. He's also accused of racketeering, kidnapping, forced labor, and coercion of children. Yeah, it's a doozy.
The indictment reveals some of what investigators know about Kelly's sex cult, including that the girls who lived with him were not allowed to leave their rooms without his permission, even to eat or use the bathroom. They were also forced to wear baggy clothes if they were not with him, avoid eye contact with all other men, and call Kelly "Daddy." He used his concerts as places to hunt for these girls, the indictment alleges. It says he handed out special backstage passes to girls he wanted, and then would stay in touch with them via texting and FaceTime calls until they declared their "absolute commitment" to him, at which point he'd start isolating them from their family and friends.
In the wake of the documentary and all the charges, Kelly has been dropped from his record label. And this is after he actually went to trial in 2008 over a video that showed him having sex with and urinating on a girl who was, at the time, 14. He was acquitted.
Hopefully these new charges mean the end of R. Kelly's years of abuse of women and girls.
This article was originally published on