This Skyscraper-Scaling Racoon Had The Whole World Biting Its Nails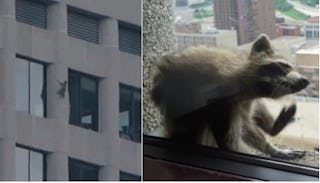 Image via Twitter/Chris Geidner/Evan Frost
A raccoon safely scaled a 23-story building, and maybe we can accomplish anything we put our minds to
The world has never been so concerned about a raccoon. On Tuesday in St. Paul, Minnesota, what started with a little local interest exploded into a worldwide cheering section as a lost raccoon, unable to get back to the ground, decided that the only way out was up. Throughout the day, it slowly scaled the side of the city's UBS building, taking rests on ledges and even hamming it up for both interior and exterior cameras.
By Wednesday morning, it safely reached the roof of the building, where it was humanely trapped, and everyone breathed a collective sigh of relief. But watching it all unfold on social media became a world-wide obsession.
It all started when Minnesota Public Radio news reporter Tim Nelson tweeted out that a raccoon became stuck on a ledge while looking for food — and that it had been without food or water for two days, unable to escape.
Unable to make its way down, the raccoon decided its only way to safety was up.
With every flight climbed, more and more people tuned in to cheer for the little guy's safety. Not only did a crowd gather in the street below, but people worldwide followed the story on social media. The animal even got its own hashtag as the day went on: #mprraccoon.
Those who worked inside the office building, as well as local city workers trying to help the critter, took pictures and video of the raccoon from the other side of the windows as it stopped to rest and groom.
Finally, the little guy made it to the roof, where a can of wet cat food was waiting for the intrepid climber and unwitting international hero.
How impressive was this feat? Here's some perspective:
And here's some good insight into the raccoon's strategy:
Once on the roof, the raccoon was trapped by animal control and the building's management team. It will be released back into the wild, in an undisclosed location by wildlife management.
"In our office we are just glad he is safe. We were all worried about him," attorney Sheila Donnelly-Coyne told NPR. She works on the 23rd floor of the UBS building, and watched the raccoon with her colleagues from her office.
But even though the raccoon's vertical journey is over, the internet is still over the moon about the climbing critter — sharing how inspired they are by the masked rascal.
Times are tough and it looks like the internet needed this little win. Nice job, buddy.