Rachel McAdams Rocked A Breast Pump In Her Latest Photoshoot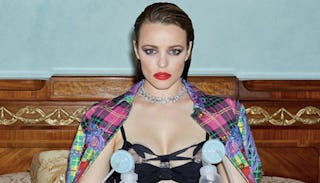 Image via Instagram/Claire Rothstein
Pumping breastmilk isn't always pretty, but here it looks pretty freaking glamorous
Rachel McAdams has been notably quiet about her pregnancy and motherhood, but yesterday she opened up about at least one facet of what it's like to be a new mom though one amazing picture.
The actress and activist, who gave birth to a son in April with boyfriend Jamie Linden, paused to pump breastmilk during a recent photoshoot for Girls. Girls. Girls. magazine. She let the photographer capture her pumping while decked out in diamonds, Versace, and bright red lipstick, and the photographer excitedly shared the image on Instagram.
Photographer Claire Rothstein posted the pic on Tuesday writing, "A million reasons why I wanted to post this picture. Obviously #rachelmcadams looks incredible and was quite literally the dream to work with but also this shoot was about 6 months post her giving birth to her son, so between shots she was expressing/pumping as still breastfeeding."
It seems like neither party wanted to take credit for the idea, though both wanted to promote normalizing pumping and working moms.
"We had a mutual appreciation disagreement about who's idea it was to take this picture but I'm still sure it was hers which makes me love her even more," she continued in her caption. "Breastfeeding is the most normal thing in the world and I can't for the life of me imagine why or how it is ever frowned upon or scared of. I don't even think it needs explaining but just wanted to put this out there, as if it even changes one person's perception of something so natural, so normal, so amazing then that's great. Besides she's wearing Versace and @bulgariofficial diamonds and is just fucking major."
We agree. Yes it is.
McAdams, who is 40, opened up to the The Sunday Times U.K. about her choice to have a child. "It's the greatest thing that's ever happened to me, hands down. [People say] your life is not your own any more. But I had 39 years of me, I was sick of me, I was so happy to put the focus on some other person."
This is the second issue of the new magazine, which hit stands on December 10, and also features McAdams on the cover looking totally glamorous in another shot by Rothstein.
Rothstein added in her caption, "I did not look anywhere near as fabulous as this when feeding/pumping. And that's ok too."
We totally get that, too. Mostly what we appreciate is that McAdams was pumping at work, no matter what she looked like or what her job was. We also appreciate the photographer, who was obviously both into making McAdams look fabulous, but also into telling a relatable, true story about the person she was capturing.
McAdams is far from the first celebrity mom to normalize pumping. Mindy Kaling, Olivia Wilde, Pink, and Kim Kardashian have all been outspoken on social media when it comes to the challenges of feeding a baby through pumping — and we just want more of it.
This article was originally published on