Who Is Being Looked Over For COVID-19 Vaccines? I Bet You Can Guess
by Nikkya Hargrove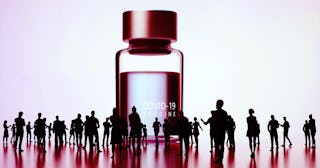 Scary Mommy and Andriy Onufriyenko/Getty
There's a problem with unequal access to COVID vaccinations, and it is much bigger than simply supplying double the doses and making them available to communities in need. It's more than simply a vaccine not being distributed to some of the most at-risk communities in our country. It's about the need to shed light on racial inequities in the healthcare system that Black and Brown people have long dealt with, inequities further exacerbated by our current pandemic. It's about addressing such issues now, when our country is in the throes of reckoning with the realities of how our country was born — through ignoring and causing the deaths of people that wanted to live on land not intended for them.
Black and Brown people are often an afterthought when most laws and practices (and COVID rollouts) are put into place for Americans. We are Americans, too, but we are de-prioritized every step of the way. As a result, there are entire families dying and communities of people unable to recover if they are infected with COVID-19 — like families living in close quarters with loved ones 65 and older or frontline workers.
New York Governor Andrew Cuomo said it well when he spoke with CNN, saying, "You can't just rely on traditional health care means because you are dealing with health care deserts, and when you just use the private health care system you are not going to bring vaccine to the desert." These health care deserts do not only exist in New York, but across our country — and they're filled with people who have been overlooked for far too long.
Of the 23 states which publish and break down the distribution of vaccinations by race, the distribution of vaccinations in Virginia paints a clear picture of how great these inequities are. In Virginia, 19% of residents are Black and account for 21% of those infected with COVID and account for 24% of the COVID related deaths across the state. And yet, only 12% of the vaccinations administered in the state have been given to Black people.
And then there are people who just aren't being counted in some states, like Latinx folks, a group of people who account for more than 18% of the national population. The biggest question I have – and one that we all should be asking — is why? Why are entire groups of people not being prioritized for this life-saving vaccine? Why are some frontline workers (including service workers), or teachers for that matter, not being prioritized as people who should be first in line to receive the shot? As a nation, our value system is fractured. We do not value one another enough, we are not all made equal, and this fact is being made clear yet again.
There are simply some people, mainly white, cisgender people, who have long been prioritized over others. During the first month of vaccinations, from December 14, 2020 – January 14, 2021, even the CDC chose not to include minorities in the summary of their report — one of the first shared about COVID vaccination distribution. In their report, they shared the following: "Approximately 13,000,000 persons received ≥1 dose of vaccine. Among persons with demographic data, 63.0% were women, 55.0% were aged ≥50 years, and 60.4% were non-Hispanic White."
This is not about not having enough vaccines to go around. It is not about a shortage. It isn't even just about health care deserts. The inequities that exist are about racism, period. It is not until halfway through the CDC's report that Black, Brown, Hispanic and other races are even acknowledged. The communities being passed up for access to vaccinations have been passed up for so many other opportunities: things like access to education, healthy food, the ability to sleep peacefully in their own homes without the fear of being killed, and healthcare, just to name a few.
Thankfully, we have a new president who seems to be committed to working to address the racial inequities that have plagued our country. Dr. Marcella Nunez-Smith, Biden's pick to lead the Task force on Health Equity, states, "We cannot ensure an equitable vaccination program without data to guide us." She added that, "The CDC will be releasing additional data regarding race and ethnicity and vaccine uptake soon, but I'm worried about how behind we are. We must address these insufficient data points as an urgent priority."
It won't be easy to do, and will take lots of difficult conversations to address such gross inequities — but this one, getting the vaccine to communities who need it the most, seems like a no-brainer for the government to get right. They too are battling wars much bigger than them with uninsured Americans, mostly from the very communities vaccines aren't getting to, in places like Pennsylvania where white people are being vaccinated 3 to 1 compared to Black people.
"In Pennsylvania, the uninsured rate among black adults dropped 11.6 percentage points, between 2013 and 2018, to 10.2%. The uninsured rate among white adults declined 4.7 percentage points during that period, to 6.3% in 2018," a report in the Philadelphia Inquirer explains.
We also cannot overlook the very real issue so many communities, especially the Black community, have with our healthcare system, and for good reason: trust. There is a deep-seated distrust in many communities of color about the vaccine and the healthcare system as a whole, built upon the fact that Black bodies have been used for experiments' sake like Henrietta Lacks, or when treatments were purposefully withheld from Black folks, which happened during the Tuskegee Experiment.
As reported in The Hill, a December 2020 poll from the Kaiser Family Foundation found that "Among Black adults, a demographic disproportionately affected by the pandemic, about 35 percent say they definitely or probably will not get the vaccine. Forty-seven percent of those respondents cited general distrust of vaccines, with another 50 percent saying they are worried they may get the virus from the vaccine."
We cannot undo centuries of mistreatment on entire communities of people because we have a global pandemic on our hands. We cannot right the wrongs of the past in just 100 days. What we can do is change today so that lives can be saved tomorrow. We can learn from our history and move forward knowing that people need to be counted and valued more. States need to adequately track who is (and who is not) receiving vaccines, and do a better job overall about providing their communities with the COVID vaccine — even if they live in a healthcare desert or are skeptical of its effectiveness.
Because whether they choose to receive it or not, everyone deserves the opportunity to have that decision.
This article was originally published on