Event Space Turns Down Would-Be Customers: 'We Don't Do Gay Weddings Or Mixed Race'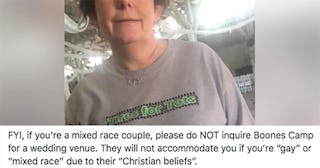 Facebook/LaKambria Welch
The woman in the video says her Christian beliefs are the reason the venue doesn't do gay or mixed race weddings
A woman who works at an event space in Booneville, Mississippi, Boone's Camp Event Hall, was recorded sharing the company's policy of refusing to allow gay or mixed race weddings to take place at their venue.
LaKambria S. Welch, who was responsible for the recording, told Scary Mommy that she was helping her brother search for a wedding venue when the interaction occurred. She filmed the video and shared it on her Facebook page, airing her frustration with her followers. Though she remains extremely calm in the video, it was clearly a disappointing experience, as Welch was being told the event space would not accommodate her brother based on his and his partner's collective races.
"FYI, if you're a mixed race couple, please do NOT inquire Boones Camp for a wedding venue," LaKambria wrote. "They will not accommodate you if you're 'gay' or 'mixed race' due to their "Christian beliefs. It's SO sad that RACISM is still going on in 2019. I never knew God to discriminate but as I've said before, everyone will have their time with him. I just hope it's all worth it."
In the video, you can hear the woman being filmed saying, "First of all, we don't do gay or mixed race." When pressed she says, "It's because of our Christian race." Then she quickly corrects herself with "Christian beliefs."
"Okay, we're Christians, as well," you can hear LaKambria say, beginning to ask a question about what part in the bible says it's okay to discriminate against gay or mixed race couples, but she's interrupted by the woman she's recording. "I don't want to argue my faith," she interjects. "We just don't participate."
LaKambria told Scary Mommy that her brother was scheduled to meet with the lady who works at the venue, but that the plans changed when she looked at the the bride-to-be's Facebook page and realized the couple inquiring about services were of two different races. "The lady looked at her Facebook page and told her they wouldn't be able to wed there due to her Christian beliefs," she said. Then after sending them private messages which weren't replied to, LaKambria says she decided to go to the event space and see what was going on for herself and decided to record the interaction. Her brother is now looking elsewhere for somewhere to have his wedding, she says.
While business owners have the right to refuse service, federal and state laws say you can't discriminate against customers based on factors like race, religion, sex, sexual orientation, or national origin. But that doesn't change the fact that many people are still discriminated against on a daily basis due to those very things. We've seen a ton of racist and anti-gay rhetoric straight out of the White House, too, in recent years, which drives the rates of those occurrences up and up. Reports have shown how racists have been drastically emboldened in recent years. There has been a major rise in hate crimes based on race, religion or sexual orientation, especially in cities where Trump held rallies.
We reached out to the Boone's Camp Event Hall for a comment on the recording but did not hear back. They have also disabled their Facebook page.
This article was originally published on