You Can Take A Yoga Class That Includes Beer And Swearing
by Valerie Williams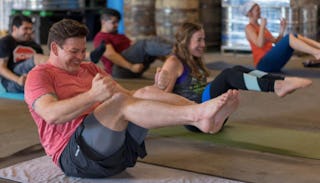 Image via David Tong/Ashley Duzich Wellness
Rage Yoga is about to be your new favorite workout
Have you ever tried yoga and it just didn't do much for you? Slowly raises hand. For some people, yoga is the key to their inner peace and happiness. They find clarity in staying still and quiet, holding poses and releasing all of their tension with each movement. But if you're like me and need something a little, um, more extreme to get all the negativity out, maybe Rage Yoga will become your new thing.
RELATED: Feeling Extra Bendy? Give These These (Hard!) Advanced Yoga Poses A Shot
According to CBS DFW 21 News, Rage Yoga comes to us courtesy of Ashley Duzich of Ashley Duzich Wellness in Houston, Texas. "Some people need to release and let go," she tells them. And she gives them the proper place to do so.
Duzich describes Rage Yoga as "a practice that involves breathing, stretching, mudras, yoga postures and a lot of bad humor."
"Yoga itself actually means union… so union with yourself," she explains. "And that's not always just super-calm, breathing, practicing quiet time, like a lot of yoga places are."
OK, I'm very with her here, because being in union with myself almost always results in F bombs being dropped — and the popularity of her classes suggests I'm far from alone.
So let's get down to the nitty gritty of what Rage Yoga looks like. Duzich describes it as a true release for all that's bothering you. "We are all angry about something and we all have been holding onto an 'F'-bomb for a little bit too long," she says. "So that's what this does – is – it allows you to have a safe space to let go of your and frustration and rage in a healthy way… and then also wash it all away with some ice cold beer."
I take boxing classes and picture things (and people) that upset me when I swing at the heavy bag. Swearing out loud and yelling about those things sounds insanely appealing. Following it up with a beer just makes sense, TBH.
But make no mistake, this is real yoga and the instructors are all appropriately qualified holding a certification obtained after at least 200 hours of yoga instructor certification.
Duzich tells Scary Mommy, "I was inspired to do this when I was in a low point in my life and my regular yoga practice of 10 years was no longer serving me and allowing me to release all of the negativity I was feeling."
WATCH: If Moms Did Rage Yoga
As far as what people end up releasing during class? "This is a great thing to just scream it out," she shares. "One of the funniest things I think I ever heard was, 'I told you to do the dishes!'"
Yes, I can see that being in my repertoire too along with "Pick up your wet towels!" and "Who left the fridge door open?" But as appealing as the class sounds, I'm not the most flexible gal in the world, so maybe I can practice Rage Yoga in the comfort of my home where I'm free to splat on the floor with only the dog as my witness.
Duzich says, "We actually take beer breaks during the class. It's definitely not for everybody and that's totally OK… I also don't recommend bringing your children."
No kids? Sign. Us. Up. We sincerely hope that Rage Yoga becomes a thing absolutely everywhere because we need it.
This article was originally published on