Viral Photo Shows The 1,616 Shots It Took To Make This Rainbow Baby
by Jerriann Sullivan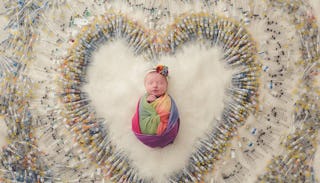 Image via Packer Family Photography
1,616 shots were part of this couple's IVF journey
An amazing photo of a rainbow baby has gone viral for highlighting the long, difficult IVF journey one couple endured to conceive. After four years, three miscarriages, and more than 1,600 shots Patricia and Kimberly O'Neill welcomed their baby girl into the world this month.
Kimberly told CNN that she started looking at newborn photo ideas as soon as the couple began their pregnancy journey and knew she wanted to save the needles from the IVF treatments. "My wife saved every single needle that I injected, all capped and plastic seals around them and everything," Patricia explained. And this was the result.
Their pregnancy journey spanned four years and cost about $40,000, and the photos of baby London highlight all the effort the O'Neills put into becoming her parents. "We just thought it would only take going into a fertility clinic and nine months later, we'd have a baby," Patricia shared. "It just didn't happen like that for us." Patricia carried each pregnancy. After losing their first baby at six weeks and their second baby at eight weeks, the couple found out that Patricia had Factor V Leiden, a blood-clotting condition which can impact pregnancies. The couple lost the third embryo. But their fourth time around they became pregnant. "We were excited. We went in to eight weeks in and we knew it was a boy," Patricia reported. "We saw the heart beat and then we went at 11 weeks and the heartbeat had stopped."
Understandably, the couple was devastated by the continued loss. "I was done and I couldn't do it anymore. But my wife and I, we started this journey together, and we decided we would always be together in the hard decisions and she wasn't done," Patricia said.
Before they used their last embryo, the couple found a new doctor who specialized in Patricia's clotting condition. He prescribed two shots a day of blood-thinning medicine in addition to the IVF shots, which led to all of the syringes used to make the heart around baby London in the photo. They used the IVF needles to create the rings that go around the heart. Lots of couples who struggle with fertility take similar photos, but the O'Neill's journey hit a nerve with people online and racked up more than 60,000 shares and thousands of comments. "I hope that there's a couple out there that's going through what we are that can see that there's hope at the end of the tunnel," Patricia explained. "There's a light and you just have to get there."
Samantha Packer of Packer Family Photography helped the O'Neills compose the perfect photo of their rainbow baby, which is a child conceived after a miscarriage, stillbirth, or infant death. They wrapped baby London in a rainbow fabric and Packer spent more than an hour arranging the needles. "The heart symbolized … that this whole painful journey was all to love a child," Packer shared. "I think that's why the photo resonated with so many people. The journey, the goal and the baby, it was a lot."
This article was originally published on