The $200,000+ Rainbow Loom Dress
by Scary Mommy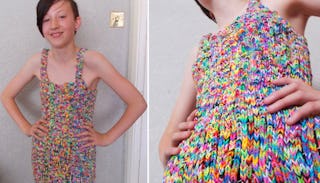 Oh, the rainbow loom. The fucking rainbow loom.
Last summer's obsession is still kicking around this summer, but one mom isn't cursing it out like the rest of us. Instead, she's laughing all the way to the bank.
Why? Because her rainbow loom dress sold for $291,000 on Ebay.
Yes. Really.
UK mom Helen Wright and a friend created the dress using over 20,000 bands. Wright then photographed her 12 year old daughter modeling the creation and listed it, hoping to make back the cost and perhaps "have a day out," Wright told the North Wales Daily Post.
Assuming the payment comes through, they'll have one hell of a day out.
File under: Why didn't we think of that?
This article was originally published on