Randi Zuckerberg's Experience With Alaska Airlines Flight Attendants Is Infuriating
by Cassandra Stone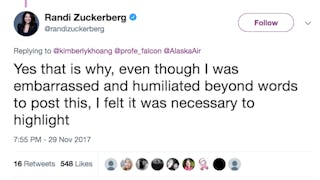 Image via Twitter/Randi Zuckerberg
The airline told her not to "take it personally"
Randi Zuckerberg, sister to Mark and founder and CEO of Zuckerberg Media, says she was sexually harassed by a fellow passenger while aboard an Alaska Airlines flight yesterday. She took to Twitter and Facebook to share her account of the harassment and her disgust with airline employees for not taking her complaints seriously.
Zuckerberg said she was seated in first class on a three-hour Alaska Airlines flight on Wednesday. The man seated next to her made "repeated lewd remarks" to her and the colleague she was flying with.
Zuckerberg also shared an email she sent to airline officials after being brushed off by flight attendants when she complained about the passenger.
"I was put in an extremely uncomfortable position on a flight today when the passenger next to me on my flight from Los Angeles to Mazatlan in first class began making explicit, lewd, and highly offensive sexual comments to me about touching himself, kept asking me if I fantasised about the female business colleague I was travelling with, rated and commented on the women's bodies boarding the aircraft," she wrote.
After informing flight attendants of the harassment, they allegedly told her the man in question is a "frequent flier" and that she shouldn't "take it personally" even though they've had to talk to him about his behavior in the past. They offered her a change of seat to the back of the plane, but Zuckerberg felt she wasn't the one who should have to move.
And rightly so. You're telling me her safety was jeopardized on this flight and she should be the one to have to move to a shittier seat? Give me a break. Flight attendants are usually underpaid and they certainly aren't bodyguards (I'm related to two myself), but if they're in the position of offering up seat changes, perhaps firmly offering one to a known harasser would be a better idea? Even if the Esteemed Frequent Flier who is also an abusive passenger refuses, at least they tried to do something.
"I am furious at that passenger for making me extremely uncomfortable for a 3 hour flight," she wrote in the email. "But I am even more furious with Alaska Airlines for knowingly and willingly providing this man with a platform to harass women."
She claims the airline staff joked with the passenger while continuing to serve him alcoholic beverages while he continued being a total pig. "Ironically one of those comments was about all the recent sexual harassment cases in the media and how 'these Millennial women just aren't willing to give some booty to get a job anymore.'"
Can you imagine what this man must be like to work with? Or for? Shudder. Heck, he's probably drafting his "I'm A Father Of Daughters" crappy apology in his head as we speak.
Not long after Zuckerberg tweeted about the incident and publicly shared her letter, Alaska Air informed her they took the situation seriously and temporarily suspended the jerk's traveling privileges.
It can't be denied that Zuckerberg has some major social influence for a situation like this, and perhaps a lesser-known passenger may not have had the same swift response from airline executives. But she used her power for good, and potentially helped save future passengers from being subjected to his harassment — and that's worth applauding.