There Are RBG Sequin Pillows And We Need A Dozen Immediately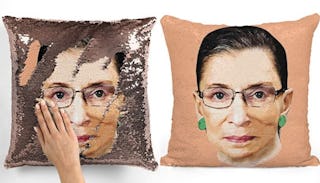 Image via Amazon
Let these RBG sequin pillows comfort you during these trying times
We're all a little concerned about our favorite Supreme Court Justice right now. Ruth Bader Ginsburg (aka, The Notorious RBG) just missed her first day of oral arguments since 1993 as she's recovering from cancer surgery and we want her to feel every healing thought we have. Somehow, we're convinced that owning these sequin pillows with her face on them will help. And if not? We still own bad ass RBG sequin pillows. Win win.
Naturally, this blessed gift comes to us courtesy of Amazon. They have pretty much everything we need and this is no exception, because please understand that for some of us, these pillows are a need on par with water and air. Look at them.
First, there's sequins.
Then, there's the face of all that is good and just in this currently lost nation.
What more could we possibly need on our living room sofas? Or our lives, TBH.
OH, glad you asked. This RBG "Dissent" mug is basically the vibe I want to carry into 2019 and will go perfectly with my new pillows.
Sipping my Dissent Tea and snugging that pillow in this t-shirt. Obviously. Though there are a number of RBG shirts to choose from, because someone in the universe loves us and wants us to be happy.
While we await good news on the Justice's health, let us cling to these kitschy talismans and send her our very best thoughts and vibes. She deserves that and so much more.
This article was originally published on