Why It's So Hard To Re-Enter The Workforce After Being A SAHM
by Danielle Silverstein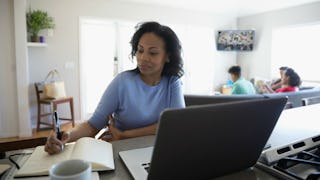 Hero Images / Getty
About 10 months ago I started writing again. I hadn't written anything in probably over 15 years. It was by chance that I started, and it turned out to be something I didn't even realize I desperately needed to do again. I started writing every moment I could. I felt like, after 12 years of taking care of my family, I had something that was all mine. I started a blog. I began connecting with other moms. It was fabulous. But I wanted to contribute monetarily to my family, too. It would feel so good to make some money doing something I really loved.
I started researching freelance writing jobs. They all had one thing standing between me and fulfilling my goal — a resume. Ugh. Sure, I had been a high school English teacher 14 years ago. But that seemed obsolete now. I also had plenty of life experiences from spending the last 12 years of my life taking care of my family, but none of them would be seen as "professional."
Why is it like this? Why is staying at home with our families not considered the type of choice that has enough value to be deemed resume-worthy? Have we not been doing something incredibly challenging and useful? Yes! Of course we have! We're dedicating our time to raising good, decent human beings and it can be argued there is no job more valuable and difficult. But it is not synonymous with mainstream occupations. There is no paycheck, no health benefits, no accolades, and no space for it on a resume.
Some might argue that I knew what I was getting into when I quit my job and decided to stay home with my kids. I knew that leaving the workforce came with sacrifice. I understood that I would have to put some of my passions and skills into storage to collect dust and get rusty. But I also have not been hibernating. I have not been lazy and remote and cut off from the outside world. I am still a creative, intelligent, strong force with which to be reckoned. We SAHMs have resume content that would knock the competition out of the park in manys if given the opportunity to share these life experiences with potential employers.
Do I have an understanding of the updated Excel, Power Point, and other computer programs?
No. But I have learned how to track my kids via GPS a dozen different ways, mastered parental controls, and learned more about technology than I ever thought possible. I'm pretty sure I could become proficient in those other things as well.
Do I handle constructive criticism well?
I have a tween daughter, two strong-willed boys, and have been married for 15 years. I'm gonna go with YES on this one.
Am I a hard worker?
I haven't slept in ten years and am responsible for the happiness, safety, well-being, and behavior of three growing humans (and two dogs). They can do the math on this one.
Do I have good communication skills?
I've been meeting and interacting with moms, teachers, administrators, coaches, tutors, doctors, and specialists for years.
So what do we do when we want to re-enter the "career world" when we've been home with our kids all these years? I don't want to get out there and do something that doesn't appeal to me simply for the fact that I don't have the technically "correct" descriptions to put on a resume. I'm going to get out there, keep writing, keep nudging my way in, and demand that what I've done for all these years be recognized as more than just a "break from work." There is no break in what we do. I haven't been taking vacationing; I've been fully immersed in the real world, just from a different setting.
If we decide at some point to re-enter the workforce, we must be empowered by our value. We must remember what we've done and go forward knowing that we have worked long hours, dealt with emergencies, acquired valuable tools, created, fixed, grown, socialized, mastered, re-worked, failed, succeeded, worried, cared, learned, taught, delegated, dropped the ball, ran with the ball, orchestrated, and LIVED. We are strong. We are dependable. We are powerful. We will not be ignored and seen as less than. We will get out there and get it. Whatever "it" is, we are worthy and deserving. We are a brave community and warriors of the human experience.
Maybe there is no spot for our role on a resume because what we have accomplished is not measurable. Our cup overflows. Graduate to a bigger cup and keep filling it. We are not done. We are only getting started.