Folks Have Big Feelings About The Jamu Vagina-Callous Remover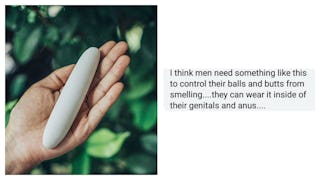 LEFT:JAMUSTICK.COMRIGHT:SCARYMOMMYFACEBOOK
When seeing something as stupid as a stick that you shove of your vag, or as one commenter called it, "The Jam-U Stick" (because our readers are fucking brilliant), which claims to rid the woman of the world of their very normal vagina smell and leave young girls thinking they need to hide their natural musk for the rest of their damn lives, we can't help but talk about how stupid it is.
The Jamu stick claims to "exfoliate" your tender vitals and uses asinine marketing techniques, such as this, to make people think they have a "loose" vagina.
Let's be very clear here, a stick that looks like a bleached hotdog isn't capable of tightening anything inside or outside the body, and ya'll seem to know that already.
It's about damn time we take the stigma away from our precious vaginas, get women talking, and loving our vaginas just as they are. I mean, all you have to do is listen to these words of wisdom from an experienced vagina who has seen it all:
But also, please see a doctor if there is something fishy going on down there — don't jam a scented sandpaper tube up there thinking you can cleanse and exfoliate it away. We cannot stress this enough.
Scary Mommy reaped another benefit from warning people with vaginas to stay away from the Jamu stick because your comments made us cry-laugh all the way to the gyno and they are too good not to share.
And because we know you are busy as fuck, we pulled the best of the best for you to read, send to your besties or the woman from your mommy Facebook group who lectures you for going to get your vag checked instead of shooting something from your kitchen up there when a strange odor starts steaming from your undercarriage.
So, if you always find yourself "here for the comments" grab a chair, pop the damn Jiffypop, and get ready to read some of the funnies comments ever.
DAMN RIGHT. Because vaginas are supposed to smell like — you guessed it — VAGINAS.
Obviously, no one wants to put anything that resembles food in their coin purse, but I can't be the only one craving a banana split and stuffed cheese bread at this very moment.
And I failed to mention a very important point during my jam-bashing sesh: Why aren't the penises of the world made to feel shame around their ballsack odor? Let's order of some of that dish, shall we?
Seriously.
There seem to be many who have been using things to make their vagina smell like a potpourri bowl and probably so damn relieved there is something made to stick up your fur burger intentionally. #sarcasmatitsfinest
Nope, not the only one.
LOL. But seriously, don't put an air freshener in your vagina. I feel like that should go without saying, but then again, products like the Jamu stick exist, so…
But the one thing we all seem to agree on is no one is sanding their honey pot. Like ever.
Rough vaginas? That really is a new one.
Abso-fucking-lutely.
If a sandpaper dildo isn't your idea of a fun-filled Friday night, they you've come to the right place.
Your comments were priceless and we are still dying. But there's one final message to the Jamu stick we couldn't leave out:
Thanks for your thoughts on this subject of injecting a scented clit-stick up your nethers. It's always nice to know you aren't the only one who doesn't feel the need to deodorize and sand your insides.
And just to reiterate, let's just all save ourselves some time and stress, and put down the douches and pads that smell like our grandmother's linen closet, and focus on the more important aspects of life. Like how we we can avoid volunteering for the PTA and the best way to bribe our kids into doing their chores.
One more time, as I wrote in the original piece, your vaginal wall doesn't need to be sanded or exfoliated at all. This has never been an issue so let's not make it one because we see a stick that claims to do so, and we think we've missed something all these years because it never occurred to us to exfoliate our insides. If our feet don't need to be cheese-grated, our walls of wonder definitely need to be left alone. A stick that claims to fight "unpleasant odors which in most cases are associated with infections," as the Jamu stick does, shouldn't even be in existence. Your odor is fine, but if you do notice a change or a foul smelling odor coming from your love canal, put down the herbal sword and call your doctor, please.
I'm all for using a stick to maintain some intimacy, but it will be one that vibrates, has a few different speeds, and has one job — to give me an orgasm.
This article was originally published on