These Real-Life 'Golden Girls' Are Spending Eternity Together And We're Here For It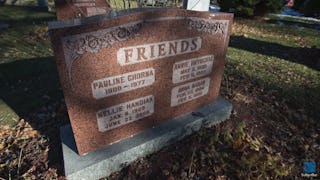 Image via the Toronto Star / YouTube
The real-life Canadian 'Golden Girls' are our new BFF goals
In Prospect Cemetery in Toronto, Canada, under a white oak tree, there's a pink granite headstone. The inscription on it is simple: It reads simply "Friends," followed by four names: Pauline Chorna, Annie Hrynchak, Anna Baran and Nellie Handiak. It's basically a real-life Golden Girls situation — four friends who had husbands and families, but chose to spend eternity buried shoulder-to-shoulder with one another.
People who stroll through the cemetery have often asked questions and expressed curiosity about who the four women were. So the Toronto Star's identity reporter, Jennifer Yang, set out to investigate. What she found was an absolutely heartwarming story of strength, tenacity and a beautiful friendship between immigrant women in Canada.
Yang's reporting is an absolutely beautiful piece of investigative journalism, and it deserves a full read. But here are the highlights.
Records show the four women buried at Prospect all came from the same region of Europe, roughly where Slovakia is today. They immigrated to Canada most likely at different times and under different circumstances (though one theory says they met on a ship bound for North America). But all four of them were seeking a better life in North America, and, unfortunately, they arrived just as the Great Depression was taking hold, meaning their new lives in Canada wouldn't be easy.
The women struggled, worked difficult jobs, endured family deaths and racism.
"Coming to Canada we did not find what we all hoped for at all — work, money and a better life," Anna Baran wrote in an article published in 1964. "It was very hard for our immigrants to cope with this situation in a foreign country."
But through all the hardships they faced, the women had each other. Their deaths came spread over three decades, but for all that time, they kept a promise that they would be laid to rest together at Prospect Cemetery. And that's where they all are today.
The Canadian Golden Girls are a great reminder to reach out to your BFFs today. Give them a call or a hug, and then make plans to be buried side-by-side someday, because the world needs more stories like this one.