10 Reasons We Want To Live In Stars Hollow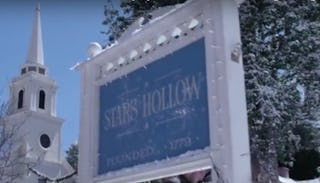 Netflix
To love Gilmore Girls is to love Stars Hollow. The city's romantic and quaint and full of quirky characters. Everyone knows everyone else as well as everyone else's business. Hey, no one said it was perfect but it does have a certain magic within its city limits for just a few reasons.
1. Luke's Diner
For the best coffee and the grumpiest attitude from the scruffiest gentle giant, this is the place to be. Burgers, pie, and did I mention coffee? The coffee is kind of a big deal. The only downside is the sign alerting patrons to the fact you can't use your phone inside, but that doesn't seem to stop too many people.
2. Town Troubadour
Sure, it's a little weird and creepy having a guy wandering around town and enigmatically singing everyone's dirty laundry, but it does add a certain charm to the small town feel. Plus he's easy on the eyes if you go for the nerdy musician type.
3. The Gazebo
During the day it's perfect for picnics. In the evening, it's the prime spot for a romantic rendezvous for two. It holds an iconic spot in the middle of the town square — Stars Hollow has a town square! — and you'd be hard-pressed to find anyone in town who hasn't been asked to attend a secret meeting there.
4. The Constant Town Events
It must be impossible to 1) get bored here, and 2) not make friends all the time. Just head to the Winter Carnival, the Founder's Day Firelight Festival, or the Festival of Living Pictures, and you're sure to have a good time and meet good people and stay caught up on the town gossip.
5. Everyone Cares About Everyone Else
This might be the best part. Even if on the outside neighbors may seem to not get along, you know deep down they all love one another. They held a wake for Cinnamon, Babette's cat, for crying out loud. How can you not feel loved and taken care of when you live in a city that puts that much effort into helping one of their own feel better?
6. Walkability Factor
Everyone walks everywhere! Food and festivities lie, quite literally, right outside your front door. You run into your neighbors and friends on the street prompting impromptu gossip sessions. You don't have to dread your morning commute. You can move at a slower pace and take it all in regardless of the weather. Plus, you can stop at Luke's for coffee.
7. The Snow Is Always Gorgeous
I've dealt with my share of snow and ice, and I have no idea how it always seems so effing magical in Stars Hollow, but it always looks perfect and pristine and everyone looks so damn cozy in their scarves and peacoats.
8. Town Meetings
Small town drama is the best drama. No one really gets that mad at anyone, but no one pulls any punches either. If Taylor thinks Kirk's idea is dumb, he is going to let Kirk know about it. Bring a friend and popcorn.
9. Everything You Need Is Available
It's a mom-and-pop-shop mecca. No Walmarts or Starbucks here. If your car is broken, you go to Gypsy's. If you need ingredients for dinner, you go to Doose's Market. Don't know what to get your new beau's mom for Christmas? Kim's Antiques is sure to have something you can put under the tree for her.
You've watched Lorelai's blood, sweat, and tears go into it so you know you're going to enjoy yourself. After all, you're treated to Sookie's cooking, the stables, the roaring fire, and Michel is hanging around just chomping at the bit to let out a snarky, hilarious comment in his amazing accent.
When our local news tells us of murders and drug busts, when we spend an hour getting home from work, when we receive lackluster coffee for an afternoon pick-me-up, we all yearn in our hearts to nestle into the cozy and quaint Stars Hollow. If you need me, I'll be wishing I could take the family to Al's Pancake World tonight instead of cooking dinner. I've heard that everything there is great — except the pancakes.
This article was originally published on