Recovering Addict Brings Table Of EMTs To Tears With Sweet Gesture
by Thea Glassman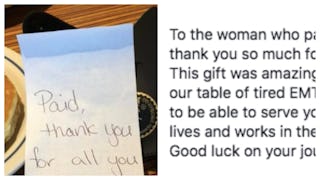 Image via Facebook/Tom's River First Aid Squad
A recovering addict picked up the bill for a table of EMTs and they were beyond touched
Today in incredibly moving news, a woman decided to anonymously pick up the check for a group of EMTs. In a note, she identified herself only as a "recovering addict" and thanked the volunteers for all the work they do. The gesture brought the entire squad of EMTs (plus a whole lot of the internet) to tears.
Alyssa Golembeski, captain of the Toms River First Aid Squad, was dining with five members of her team at IHOP when a general manager approached to let them know that their meal had been taken care of. The group was presented with a note that read: "Paid. Thank you for all you do! Have a great day. – Recovering Addict."
Golembeski told CNN that she tried to find out who their mysterious benefactor was but was told that the woman preferred to remain anonymous.
The generous gesture meant a lot to the group of hardworking EMTs. "We were all a little fried after Thursday night, and so Friday morning, getting that thank you note, it was the nicest thing anyone could have ever done for us," Golembeski said. Plus, their food haul definitely wasn't cheap. "EMTs do not eat light. We racked up a $77 bill."
The Toms River First Aid Squad took to Facebook to share a sweet note for their anonymous supporter, and let her know how much they appreciated her kindness.
"To the woman who paid our tab today at IHOP, thank you so much for paying for our breakfast. This gift was amazingly thoughtful, and brought our table of tired EMTs to tears," the group wrote. "We are so blessed to be able to serve you and everyone else who lives and works in the greater Toms River area. Good luck on your journey of recovery!"
Is your heart currently exploding? You're definitely, definitely not alone. Comments poured in from strangers who thanked the EMTs for the work they do, wished the woman strength in her road to recovery, and shared their own stories of addiction.
*Sigh.* There's so much terrible news out there right now. It's so nice to see people being generous, selfless, and kind. More stuff like this, please.