Red Cross Puts Out Plea For Donors In Face Of Nationwide Blood Shortage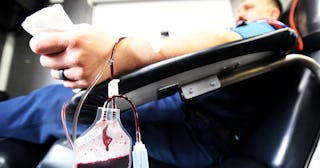 MediaNews Group/Long Beach Press-Telegram/Getty
Facing a national supply shortage, the entire blood collection industry is calling for donors
As the coronavirus crisis intensifies, headlines about the closure of stores and restaurants and cancellations of concerts and movies grow exponentially. But did you know that nearly 2,700 Red Cross blood drives have been cancelled in the U.S. due to the coronavirus, too? And as concern over the novel coronavirus pandemic continues to grow, it stands to reason more blood drives are in danger of falling through.
Accordingly, we're now in a precarious situation — the Red Cross is distributing blood faster than it is coming in. As such, the nation is now facing a "severe blood shortage" and the organization is issuing desperate pleas for healthy donors. In fact, joining forces in an effort to mobilize donors is the entire blood collection industry: America's Blood Centers, Armed Services Blood Program, The U.S. Food and Drug Administration Center, The U.S Department of Health and Human Services and, naturally, the Red Cross.
Their message? The blood banks need to be re-supplied soon, so they need healthy donors to show up and help.
"This is an unprecedented situation," Chris Hrouda, president of Red Cross Blood Services, underscored in a recent release from the organization. "We are doing everything we can to prevent a shortage. We are very concerned that fewer eligible donors will be able to give, making it extremely difficult for our inventory to recover if we get to shortage levels."
Red Cross spokesperson Jodi Sheedy tells Scary Mommy that as blood drives are cancelled, Red Cross locations are stepping up. "Workplaces, college campuses and schools are canceling their blood drives as these locations temporarily close and more people are being told to work remotely and practice social distancing. As a result of these drive cancellations, during this coronavirus outbreak there may be fewer locations where individuals can give. The Red Cross extending hours and adding appointment slots at our Red Cross donation centers, as well as expanding capacity at many community blood drives across the country over the next few weeks to ensure ample opportunities for donors to give," she explains.
Sheedy says no particular type is needed more than any other — and the need is urgent. "This blood shortage could impact patients who need surgery, victims of car accidents and other emergencies, or patients suffering from cancer," she says. Sheedy reminds us that blood donors can give every 56 days with eligibility requirements listed on their website. "If you are healthy and feeling well, please make an appointment to donate as soon as possible by using the Red Cross Blood Donor App, visiting RedCrossBlood.org or calling 1-800-RED CROSS (1-800-733-2767)," she shares.
Unfortunately, the coronavirus pandemic comes on the heels of a particularly tough cold and flu season that had already impacted the nation's ability to maintain its blood supply. This situation could easily become a much bigger problem as the novel coronavirus continues to spread — ruling many once-eligible donors out in the process.
"We're asking the American people to help keep the blood supply stable during this challenging time. As communities across the country prepare for this public health emergency, it's critical that plans include a readily available blood supply for hospital patients," Hrouda said. "As fears of the coronavirus rise, low donor participation could harm blood availability at hospitals, and the last thing a patient should worry about is whether lifesaving blood will be on the shelf when they need it most."
If you're worried about the risks of breaking self-isolation to donate, well, don't be. The Red Cross is taking every precaution to ensure the safety of donors during the donation process and at blood drives. Also, there's no evidence that the coronavirus is transmittable by blood.
The Red Cross is implementing extra precautions for donors and staff during the coronavirus pandemic:
Checking the temperature of staff and donors before entering a drive to make sure they are healthy;
Providing hand sanitizer for use before entering the drive, as well as throughout the donation process;
10 Spacing beds, where possible, to follow social distancing practices between blood donors; and Increasing enhanced disinfecting of surfaces and equipment.
These mitigation measures will help ensure staff and donor safety in reducing contact with those who may potentially have this, or any, respiratory infection.
Even so, the same general blood donation practices regarding health and safety apply. If you have the coronavirus or have recently traveled to an area with known outbreaks, you should postpone donating. The same applies to people who've had "contact with a person who has or is suspected to have the virus."
You can find the full eligibility requirements at RedCrossBlood.org. To make an appointment (let's do this, healthy humans!), you can use the Red Cross Blood Donor App or call 1-800-RED-CROSS (1-800-733-2767). Type O and platelet donations are especially needed right now.
This article was originally published on