Reese Witherspoon Just Confirmed 'Legally Blonde 3' Rumors In The Best Way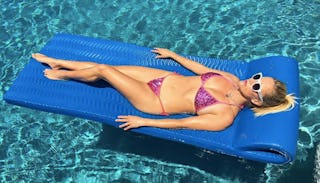 Image via Instagram/Reese Witherspoon
Reese Witherspoon's announcement confirming Legally Blonde 3 involved the Elle Woods bikini
Hearts across the world exploded with happiness when rumors started floating around that there was a Legally Blonde 3 in the works. Now, Reese Witherspoon is officially confirming the news with an Instagram post featuring Elle Woods' signature pink bikini. Because, honestly, anyone who says orange is the new pink is seriously disturbed.
Earlier this week, Deadline reported that MGM was close to nailing down a deal for the third installment of Legally Blonde. It looks like those talks ended up going really well because Witherspoon took to Instagram to share a video of herself floating through a pool wearing THE Elle Woods bikini along with the caption: "It's true….#LegallyBlonde3."
In case you need a refresher, Elle Woods wore that very same swimsuit during her Harvard Law School admissions video essay, when she paddled around in her parents' pool and rehashed the latest episode of Days of Our Lives. Side note: Reese Witherspoon has somehow managed to not age at all in the 17 years since this movie came out. Seriously, not at all.
No word yet on what the plot of the upcoming film will be, but hopefully it involves plenty of Bruiser, plenty of Jennifer Coolidge, and plenty of Elle taking people on in court with lots of sass, smarts, and pink. The iconic character means so much to people (one woman wrote a 15,000 (!) word dissertation on Legally Blonde), and Witherspoon doesn't take that lightly.
The actress/producer/general powerhouse told Fast Company that women have told her that the film helped them believe in themselves and, for some, encouraged them to go to law school.
"I didn't even understand when I was making it that it was a bit of a modern feminist manifesto," she said. "Seeing a woman who is interested in feminine attitudes—getting her nails done—but who is also interested in promoting herself and accomplishing things was a new idea of feminine. A lot of women related to that, and the feeling of being underestimated."
https://www.instagram.com/p/BHzmppAgH0y/
If you are currently furious that this sequel isn't coming out, like, tomorrow, please turn your attention immediately to this video of Witherspoon trying on all her old Legally Blonde costumes. I promise seeing her wearing those bunny ears again will hold you over for at least another month.
Now go stomp your little last season Prada shoes at somebody, honey. Life is about to get so, so good.