You Can Rent Disney Princess Dresses For Your Kids, No Pixie Dust Required
by Megan Zander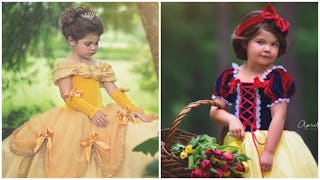 Images via Your Fairy Godmother/ April Reeves Photography
Bibbity, Bobbity, sign us up
For some kids, going into the Disney parks dressed as their favorite character is even more important to them than the rides. But if you're a mom who doesn't know her way around a sewing machine and you're not thrilled with the idea of shelling out a pile of clams for a mass-produced mermaid costume, then you're in luck.
There's a way to rent Disney costumes for your kids, and you won't have to shove your suitcase full of tulle to do it.
Lori Blumenstock dreamed up the concept of Your Fairy Godmother last year when she was planning her own Disney vacation. "While searching for costumes to wear, everything I was drawn to for my daughter cost hundreds of dollars. There was one dress in particular that I fell in love with, but with a price tag of over $300, I couldn't imagine paying so much for a children's costume that she would likely only wear one time," she tells Scary Mommy.
Having seen high-end dress rental companies for women catering to events like weddings and reunions, Blumenstock decided to start a business that rents kid's Disney costumes for birthdays, photo shoots, or that iconic first trip into the Magic Kingdom.
Because suitcase space is sacred these days, My Fairy Godmother will ship your costume directly to your hotel to be picked up upon arrival. You can earn tons of parental brownie points playing up the magic factor by telling your child a pixie left them a special package. Blumenstock says she suggests parents tell their kids that the Fairy Godmother will need the costume back so that the next child can wear it to meet the princesses. A prepaid return shipping label is included, so you don't have to choose between bringing home your actual clothes and bringing home Cinderella's ballgown.
Prices for rentals start at $30. There are traditional princess options for girls like Moana and Tinkerbelle, as well as fun options for boys like Beast and Kristoff.
It's true that you can purchase princess dresses in the park or even at home before you go, but the dresses rented by My Fairy Godmother differ in a few major ways. "When I started this business I had a few criteria I wanted to adhere to," Blumenstock explains.
"Any designer or seamstress I purchased from MUST be based in the United States. As a mom myself, I want to actively support other working mothers. That is very important to me. I also wanted to only buy handmade, high-quality products. Nothing that can be found in a store and everything has to be of the highest quality fabrics — nothing itchy or uncomfortable for the child."
Besides the excitement of opening a package from your very own Fairy Godmother, the designs are unique, so if your little one likes to stand out, she won't get lost in a sea of other Elsas. And most of the dresses are lined in satin, so there's no looking adorable but having to deal with itchy legs all day (the worst).
While some kids can't wait to wear one of these creations on Dumbo or the Mine Train roller coaster, others dream of dressing as their favorite prince or princess for a magical photo shoot. Photographer April Reeves frequently collaborates with the company to take photos that turn kids into living cartoon characters.
Of course, kids don't need a fancy costume to enjoy a day at Disney. But if you're a go big or go home kind of family, this is one heck of a way to strut towards that castle in style.
This article was originally published on