Download This Free Mini Zine Now And Pass It Around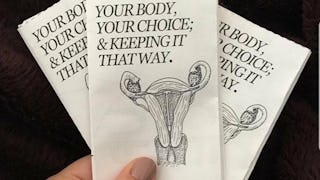 reprorighstzine / Instagram
Unless you've been living under a rock, you know that in 2017, a woman's right to choose what she does with her body is being threatened by our current administration. There are people who want to move backwards as a society, and women of the world aren't having it.
Layla Alter, Emma Holland, and India Menuez are three amazing ladies who are the creators of Repro Rights Zine. They are determined to make every person, regardless of age or gender, aware of their rights when it comes to their reproductive health.
I don't know about you, but when I see a group of badass women come together to create awareness and make sure everyone knows women are strong as hell, it makes me pretty damn proud.
This free downloadable Repro Rights Zine was created to take a stand and show that women of the world are fighting back and will remain in control of our bodily autonomy. It covers everything from birth control, support resources, and gives advice on how to cope with what is happening to women's rights under our current administration.
After all, our bodies belong to us, no one else. Unfortunately, lots of folks (white men, mainly) need to be reminded of that fact.
You can also buy the artist edition here for $20, which features the work of seven different artists and all the proceeds will go to the Center for Reproductive Rights.
The trio started this zine to spread awareness of our reproductive rights and what we are up against in the next four years, what might change, and how to stay in control of our rights.
It started making its rounds in January and has since made countless appearances during Women's Marches all over the country and on social media platforms.
Layla Alter tells Huck she felt helpless, but wanted to take action and knew women needed to "take back control of [their] bodies. I felt like everything was going to slip away once Trump won the election."
Alter works for Killerandasweetthang.com, a sex education startup, and wanted to create something to empower women and educate everyone on their reproductive rights, in order to foster the pushback we need to fight this bullshit. "I knew I had to create something to spread information about reproductive rights. I knew I wanted it to be downloadable online, easily distributed, inclusive, and aesthetically pleasing and I took it from there," she says.
So that is exactly what she and co-founders Menuez and Holland did. Join them in spreading this very important message that our bodies are ours and we will not stand down.
The three have also created a second zine — a self-defense starter kit which came to fruition after the hate crimes toward racial, ethnic, and religious minorities, women, and the LGBTQ communities became more rampant after the election. It was written by Ali Withers and Robie Flores, the two who originally started the self-defense starter kit. The women of Women's Initiative for Self Empowerment (WISE), a leadership program based in New York City that helps young Muslim women, also contributed to this zine.
So print one out. Print a few, so you have some to share, pass around, tack on community bulletin boards. Spread the word.
They would love it if all the badass women who have printed off a copy would snap a selfie to spread the love and empowerment. Email it to them at zinereprorights@gmail.com, and they will post it to their Instagram page.