Republicans Set To Confirm A Lifetime Federal Judge Who Opposes Fertility Treatments
by Cassandra Stone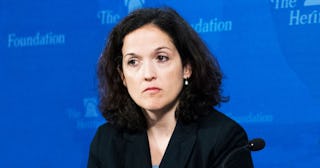 Tom Williams/CQ Roll Call/Getty
Judge Sarah Pitlyk feels IVF and surrogacy have 'grave effects on society'
Senate Republicans, who will apparently stop at nothing to eliminate reproductive rights in the U.S. entirely, are voting to confirm a lifetime federal judge who vehemently opposes fertility treatments and surrogacy.
Sarah Pitlyk, a former law clerk for Brett Kavanaugh, has claimed in the past that both treatments like IVF and surrogate motherhood have "a grave effect on society, including diminished respect for motherhood and the unique mother-child bond; exploitation of women; commodification of gestation and of children themselves, and weakening of appropriate social mores against eugenic abortion."
Pitlyk is Donald Trump's current nominee to a seat on the U.S. District Court for the Eastern District of Missouri. She argued the above points as recently as 2017 while opposing a California statute that protects the right to assisted reproductive technology like in vitro fertilization, or IVF, and gestational surrogacy.
According to HuffPost, Pitlyk has a clear career record of attacking reproductive rights. She defended anti-abortion activist David Daleiden, who broke federal and state laws by secretly recording and deceptively editing videos that falsely claimed to expose Planned Parenthood's illegal sale of fetal tissue. She has also defended Iowa's six-week abortion ban — which was, thankfully, struck down as unconstitutional. She's also previously argued that it is "scientific fact" that "human life begins at the moment when a human sperm fertilizes a human egg." (It's not.)
This is all very confusing, because someone who is such a clear proponent of reproducing at any cost is also against it just because an egg may be fertilized outside the womb? And if a woman uses her reproductive system to reproduce a child for a couple who cannot reproduce on their own, that is somehow the wrong way to reproduce? You cannot be against abortion and therefore in favor of forced birth, but also against the way a child is conceived or carried. The logic is simply… not there.
Not surprisingly, Pitlyk defended her former boss, Brett Kavanaugh, when he was credibly accused of sexual assault during his own confirmation hearing. She said critics were "trying to tarnish the character of a man we and so many other people admire and respect" on the basis of "a single, unsubstantiated, anonymous allegation about an alleged incident in high school – some 35 years ago," according to a piece she wrote for Fox News.
In a letter signed by more than 200 civil and human rights groups across the country, Pitlyk is noted as "an ideological extremist who has dedicated much of her legal career to attempting to restrict reproductive freedom and access to women's health care. The Senate must reject her nomination to a lifetime position in the federal judiciary."
This article was originally published on