These Retirement Planning Calculators Will Make That Scary Process Easier
by Team Scary Mommy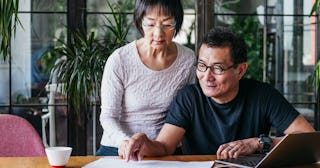 JohnnyGreig/Getty
Let's be real: planning for retirement is daunting and frankly, a bit terrifying. How much do you need to survive in your golden years? How much do you need to start saving now? What is the difference between a trust and a will? Will Social Security even exist when you retire? Or what is an annuity and do you need one? I have trouble budgeting for next month — how the hell am I supposed to think about doing it several decades in advance? Is retirement even going to be possible, or will I be hustling until the day I die?
RELATED: 30 Golden Retirement Gifts To Celebrate Their Golden Years
Fortunately, there are a number of retirement planning tools that can make this process a little easier. Though they don't do all the work (or unfortunately the saving) for you, things like a retirement planning calculator can at least give you a ballpark of what you're going to need to do now in order to live comfortably in old age. You're not alone in your search of tools to better understand your retirement needs. After all, you need to account for inflation and other factors you may not know off the top of your head. In fact, according to the latest search data available, there are nearly 4,500 monthly searches of retirement planning calculators alone. Luckily, we did the research for you and have collated a list of some of our favorite retirement planning tools and some of the best retirement companies out there to help make this process a little less painful.
First, Figure Out How Much Money You'll Need For Retirement
If you are in a position where you can start saving for retirement, you should definitely do it. And the sooner the better. The first important step in the process is to try and figure out roughly how much money you'll need to live comfortably while still factoring in extra wiggle room for unforeseen expenses that might arise down the line. While this won't be a foolproof, it will give you a rough estimate of how much you may need down the line.
Once you have an idea of how much money you'll need for one year of retirement, multiply it by 25. Don't freak out, this figure will look staggering. For example, if you want to live on $50,000 per year in your retirement, you're going to need a portfolio of $1.25 million.
What do you need to know before meeting your retirement planner?
You learned early on in your career that the most important bit of any meeting is showing up prepared. The same goes for your meetings with your financial retirement planner. Knowing what documents to bring and questions to ask is key. Luckily, the folks over at CapitalGroup have outlined a handy preliminary list of both to get you started.
First things first, the documents you should bring with you are:
Latest statements for all your accounts (e.g., IRAs, 401(k)s, 529s, savings)
Information about other investments or assets (e.g., stocks, real estate) Compensation details (e.g., pay stubs, pensions, Social Security, inheritance) Monthly expenses (e.g., credit cards, mortgage/rent, loans) Recent tax records Estate planning information (e.g., trust, will, life insurance)
The questions you should ask are:
What is my financial situation?
Do I need to reconsider my time horizon? Have recent changes in my personal life affected my financial situation? Am I on track with my retirement savings?Is my portfolio properly diversified to meet my financial goals?
Best Retirement Planning Calculators
If you do a quick Google search for "retirement calculators" you'll probably be as overwhelmed as we were when we did exactly that. With so many options out there, how do you know which is best? The good folks over at The Balance have created a retirement calculator scorecard which rates popular apps in terms of their accuracy, usability, and educational component. Though there are other retirement planning tools out there, most have some calculator component. Here are their top three picks, based on their rating system:
ESPlanner Basic
The ESPlanner Basic was the only calculator to receive a perfect score in each of the categories, which is pretty impressive. The site was developed by an economist at Boston University and uses patented algorithms to help you create lifetime budgets, calculate how much you need to spend and save. It also helps walk you through the risks of retirement investing and finds the safest ways to help you save.
New Retirement
The New Retirement site came in a close second in the rankings. What started as a way to help the founder's mother manage her finances as she headed into retirement has grown into a system used by 84,000 people. In addition to helping you build your retirement plan, the site also helps users find new opportunities to manage and safely grow their nest egg.
AARP
Is there anything the AARP doesn't do to help us plan for and thrive during retirement? I mean, it is called the American Association for Retired Persons, so it makes sense that they'd have a solid retirement calculator. Basically, you answer a few questions about your finances, and the site provides you with a personalized snapshot of what your financial future might look like and how to make sure you have enough to retire on.
Prudential
For those looking to invest as a way to prepare for retirement, Prudential might be an option to look into. The company's financial consultants can also answer queries on 401 rollover and IRA options.
Best Retirement Companies
While you're looking ahead to retirement, you may also be wondering about the best retirement companies and plans out there. Once again, The Balance has taken the time to analyze many companies and retirement plans out there, and has come up with a list of those they recommend.
Fidelity
You've probably already heard of Fidelity, and as it turns out, it was also named the best overall retirement company. Fidelity recently added four no-fee mutual funds to its lineup, so if that's something you're interested in, that could be a good option for you. They also have special programs to help you plan for retirement, prepare you for the process of actually retiring, and then managing your money in retirement.
Vanguard
If you're looking for a retirement company with low fees for broad market funds, Vanguard might be for you. In addition to providing the usual retirement planning tools, Vanguard also regularly posts articles on their website to help customers (or anyone, really) manage any current uncertainties in the market — from market volatility to the impact of COVID-19.
Charles Schwab
Another familiar name, Charles Schwab has been in the retirement game for a long time. In fact, it currently has more than $3 trillion under their management. As The Balance points out, "the biggest retirement providers look very similar when it comes to fees and funds, but Schwab is a step ahead when it comes to the average index fund cost." It also offers banking and investing, making it a good one-stop-shop for all your financial needs.
Will these retirement planning calculators and companies make the whole process totally stress-free? Probably not. But they can definitely make it more straightforward and serve as great tools and services to help you with the big decisions surrounding retirement.
This article was originally published on