Retro Decorations That Are Giving Us Holiday LIFE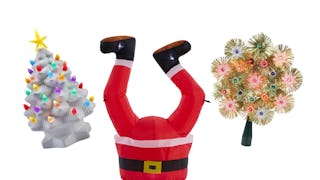 Image via Walmart
The best part of turkey day is when it's over — because that means it's finally time to get some holiday decor up in this place. This season retro holiday decorations are on trend, so we went ahead and found all the best retro Christmas decor to make your home cozy and bright this holiday season, all without busting your budget. You'll love these!
If you've got little kids and pets, you avoid poinsettias. Luckily this elegant Holiday Time Christmas Poinsettia Felt Garland is perfect for your mantle, and you won't need to water it.
If you want a stocking that looks like your grandmother knitted it, this Belham Living Red Knit Fair Isle Christmas Stocking fits the bill. At 18" long, you can pack in plenty of stocking stuffers.
If Santa drove a pickup, it would totally look like this Little Red Truck Ornament. Why are tiny things so adorable? Bonus: It's resin, not glass, so if grabby fingers get it, it won't break.
A modern take on an old joke, these Holiday Time 3.5 ft. Inflatable Santa Legs make it look like the big man himself is just starting down your chimney. The hubs might be grumpy about installing it, though. Bah humbug!
If you want a country holiday touch, this adorable Barnyard Rustic Burlap Christmas Tree Skirt is fab! Best of all, burlap hides a lot of sins, so it's easy to keep clean the whole time your tree is up.
Did your grandmother have one of these adorable trees? If you've been scouting thrift stores for one, just go ahead and order this Mr. Christmas 10 Nostalgic Porcelain LED. It's perfect!
Do you like stars? Do you like tinsel? Do you like lights? Do you want your tree to look like it's exploding in 1970s flare? Then OMG gets you this 8″ Retro Gold Tinsel Snowflake Christmas Tree Topper.
Fifty years ago, these lights were all the rage. If you're into swing dancing, rock-a-billy, and skater skirts, you'll adore this Set of 7 Multi-Color Retro Christmas Bubble Lights.
If you love those iconic reflector ornaments with the long, delicate finials but don't want to invest in glass when you've got lots of tiny fingers? Then you'll want these Northlight Seasonal Retro Reflector Shatterproof Christmas Ball Ornaments!
If you've got older kids who won't yank off every single ornament, you can't beat these sweet old-style Kurt Adler Early Years Retro Glass Finial and Top Christmas Ornament Sets.
Is it wrong to decorate before you give thanks at Thanksgiving? If it is, then we don't want to be right. This year we can't wait to fill our homes with these great retro pieces!
We are a participant in the Walmart.com Affiliate Program and may earn fees by linking to Walmart.com and affiliated sites.
This article was originally published on