This Is What So Many New Moms (Including Celebrities) Struggle With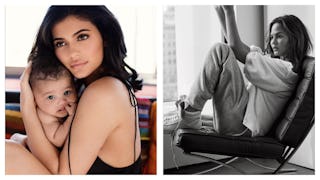 LEFT: Kylie Jenner/Instagram; RIGHT: Chrissy Teigen/Instagram
It's Return to Work Syndrome. I see it a lot. I spent 20 years recruiting for Amazon, Google, and other top firms and worked with many new moms dealing with reentry. I recognized what Jenner and most new moms describe as experiencing. The problem is, it doesn't actually have a name, and it's time to change that.
Even Celebrities Aren't Exempt
There's been a lot of press surrounding Kylie Jenner. The twenty-year-old is poised to become the world's youngest self-made billionaire. Her $900 million empire will dethrone predecessor, Mark Zuckerberg, Facebook's Founder.
Kylie Jenner, part of the famous Kardashian family, started her new makeup line because she felt insecure about her looks, specifically her thin lips. After adding lip fillers and not seeing natural results, she decided to remove the fillers and developed her own lip gloss and liners to increase her self-confidence and help women feel confident.
The transition for Kylie comes at a time when she recently gave birth to her first child and is heading back to work. As a celebrity always in the public eye with her clothing line, TV shows, and famous sisters, Kylie might not know that the insecurities she's experiencing go beyond lip fillers. A sometimes hidden, misdiagnosed, and often overlooked issue for new moms is postpartum anxiety directly related to returning to work.
Jenner's sister, Khloe Kardashian, also expressed concerns about the end of maternity leave after the birth of her daughter, True. "I've been getting just anxious about it," she said of returning to work. "Today I'm very anxious. I don't know how I'm going to leave her all day tomorrow. That's freaking me out."
Return to Work Syndrome: What Is It?
It's that feeling of dread, anxiety, or depression a woman feels when it's time to return to work after the birth of a child. It's on the spectrum of the more commonly known postpartum depression and anxiety. Data reveals that postpartum anxiety affects 1 in every 6 women while postpartum depression affects 20 percent of new mothers.
Getting ready to go back to work can add additional stress and needs to be recognized. Hormonal changes, separation anxiety, and motherhood are already stressful. Returning to work and reacclimating to work-life pressures adds another layer of complications. When women feel it's too much to bear, they'll consider not returning to the workforce or worse.
Undiagnosed Postpartum Anxiety Is a Factor
Dr. Ian Paul with Penn State College of Medicine led a study on postpartum anxiety where 400 women were asked questions about feeling jittery, anxious, indecisive, or strained from 2-3 days after childbirth up to 6-months postnatal.
The study found 17 percent of women experienced anxiety. While maternity leave policies last 8-12 weeks, that would mean that at just 2-3 months in, new moms are returning to work with potentially undiagnosed postpartum anxiety or depression and may not know it.
New moms might think it's just weight gain, lack of sleep, or nerves, causing their dismay, but these are often symptoms indicative of heightened stress and fluctuating hormone levels. These issues worsen in about 5.4 percent of mothers, states Dr. Emily Miller, a clinical fellow at Feinberg who works in maternal fetal medicine.
Aside from Kylie Jenner and fellow celebrities Chrissy Teigen and Hayden Panettiere who expressed publicly their battles with postpartum depression, the disease affects 600,000 new mothers each year, and postpartum anxiety can worsen and last longer. Hence, the need for good support systems.
It's Not Just "Lean In;" Rather It's "Get In"
Some businesses are introducing HR mentoring programs that support new mothers transitioning back to work. Mentoring helps women reacclimate in the workforce as they shift priorities and regain footing and the competitive edge and confidence they had before maternity leave.
The time when new moms return to work is a pivotal stage where mentors can help in powerful ways. Not only did Sheryl Sandberg refer to this in her book, Lean In, but women can "get in." It's similar to an amusement park ride that stops temporarily and allows new riders on. Mothers are welcomed back in so they can transition back into their roles or they create new roles to accommodate busy and sometimes chaotic schedules.
Women mentors are important because in corporate environments men can't always related. A man's time off might only be for vacation or holidays, and if unscheduled, it might only be for a surgery. Men may not understand the hormonal and psychological changes associated with childbirth. Hence, the need for female mentors.
New Moms Need Support for Return To Work Syndrome
The complex challenges new moms face don't end when maternity leave does. Mothers need to be supported when they're coming off maternity leave.
My advice for women is to seek out a mentoring group at work or online or reach out to organizations where women's voice can be heard, ideas can be shared, and they have a team of supportive people that relate to them as moms.
Having a support plan can help a woman get back to work, but more importantly, being tested and treated for postpartum depression and anxiety can help with social pressures and work or home-related stress. Just like Kylie is finding her way as a new entrepreneur and self-made billionaire, it's a lot to juggle.
This article was originally published on