Revenge Porn Is Never, Ever, Ever Okay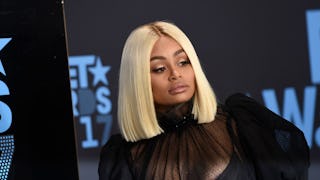 CHRIS DELMAS / Getty Images
You've broken up with someone. Your heart is hurting. You feel like a pile of day-old dog crap, steaming on the front lawn, that nobody wants to pick up, and suddenly you see the provocative images of you and your ex-lover getting busy on the kitchen island, or the one of you in a new thong that you sent over during a hot texting session — they're splashed all over his public Instagram or Facebook as a way to get back at you.
Those images were supposed to be private, of course. For his eyes only. For your mutual enjoyment and pleasure. You are understandably horrified, and you feel incredibly violated.
And it doesn't stop there. Let's just twist the knife into the already bleeding wound by going a step further and sharing with your mutual friends, her co-workers, strangers, and possibly even her grandmother all the creative ways you used to get freaky together — because apparently this is the way you treat people you used to love, had intimate relations with, the mother of your child.
Reality TV broflake Rob Kardashian did just that on Tuesday, July 5, after posting sexually explicit images of his ex Blac Chyna.
Oh, Rob. You are just so classy, and I am sure you are now going to have to hire even more personal security since all the ladies will be flocking to your yard to get a piece of you after that epic display of complete assholery.
I don't care what emotional roller coaster ride you're currently experiencing, it is never (ever, ever, ever) okay to post pictures of someone all over your fucking Instagram page (whether they are clothed or not) as a way to publicly shame them. I realize this was a petty attempt at trying to make yourself look superior, but your cunty behavior only makes you look like, well, a cunt.
Not only does "revenge porn" make the person who delves into such behavior look like a huge asshat for throwing out something so private it was only intended to be shared between two people, it's also against the fucking law.
In 2013, the non-consensual pornography law was passed to protect folks against fucknuts like Kardashian because unfortunately people feel that posting pornography without consent just feels right sometimes. Well, now you can face up to six months of time in jail, so think twice before hitting publish.
Kardashian claims Chyna sent him the images, and since he didn't take them, he's free to post them wherever he'd like. Um, no. The pictures were meant for his eyes only, and he knows it. They were engaged, expecting a child, and enjoyed intimate moments together. Nobody should have to expect that those images will be made public or used as blackmail.
Kardashian accused Chyna of cheating and felt that was a justifiable reason to blast these explicit images out to the general public. He knew it would have a huge impact on her and her children, but the temptation to "settle a score" got the best of him (because he's an insecure ass).
California as well as 37 other states have laws to prevent and fight non-consensual pornography, and hopefully all 50 states will be on board in the near future. It's considered abuse and an invasion of privacy because it is both of those things.
Inflicting harm on another person by posting very intimate or explicit pictures of them isn't merely a lapse in judgment, it's a deliberate, calculated move that reveals your character, and once you show your true colors, you can't unfuck that mess.
If you are an adult and want to send sexy pictures of yourself to another consenting adult, you should, absolutely. Have fun. Do it up! And if that relationship goes in the shitter, you should be protected if they decide to work their shit out through a post on their social media account.
I'm not here for the people who place blame on the victim. There are laws to protect folks against this type of ex-partner meltdown for a reason — because nobody deserves to have this happen to them. Full stop. The blame is to be placed on the perpetrator only.
It's a damn shame we have to have laws like this in the first place, but in this day and age, I am glad they are there to protect those who need it.
This article was originally published on