Fashion Photographer Snaps Abandoned Dogs To Help Them Find 'Forever Homes'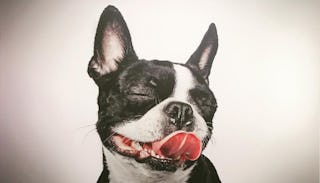 Image via Instagram
Fashion photographer turns his sharp eye to abandoned dogs in effort to save them.
We're all used to seeing those heartbreaking ASPCA commercials, where Sarah McLachlan plaintively requests our help as images of sick and abused animals appear on the screen. Even if you want to help, you may be too busy weeping to manage it. Which is why Richard Phibbs' methods may be more effective.
Since 2012, Phibbs has been putting his training as a fashion photographer to work for abandoned animals, taking adorable portraits of them for the Humane Society of New York in an attempt to help find them their "forever homes."
A story on Bored Panda explores Phibbs' new book, "Rescue Me," which features many of his photographs of dogs looking to be adopted.
The book also includes background on the pups featured in the portraits, from the poor animal's history of rejection and mistreatment, all the way up to happiness and redemption upon being adopted and finally landing in a home where they're loved and treasured, as man's best friend deserves.
Who could ever want to hurt these adorable faces?
On his Instagram page, Phibbs describes himself as an animal advocate, and looking at his gorgeous photos, it's clear to see how much he cares for them. It's a beautiful example of how to leverage your skill and talent in a unique, meaningful way.
Phibbs spends his days taking photos of celebrities and models, and he's very, very good at it, but on the side, he turns his gifts to disadvantaged animals, all for charity. One look at these photos and it's pretty clear where his heart lies.
Phibbs not only volunteers for the Humane Society of New York , he's on the board. He was also voted to the RODALE 100, the definitive list of 100 people and organizations positively changing the world.
Oh, and though he has taken portraits of more than 100 dogs over the years, it's not just dogs.
Kudos to Phibbs for using his talent for the greater good of animals. And for making them look fabulous in the process.
This article was originally published on