Rihanna's New Lingerie Line Is Inclusive And Hot As Hell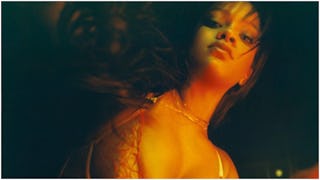 Image via Savage X Fenty
Rihanna's new lingerie line, Savage X Fenty, is everything
The world can't come together peacefully on a lot of things, but I think we can all collectively agree that Rihanna is a fierce, fierce goddess. She's beyond talented, ridiculously charming (please just look at her meet & greet pictures), and dresses like a damn queen all the time. Also, she started a new lingerie line that's hot as hell and inclusive to all shapes and sizes — so RiRi pretty much wins it all.
Savage X Fenty launched on May 11th, and it offers 36 (!) different sizes, ranging from 32A-44DD in bras and XS-3X in underwear. It's super inclusive for women of all different skin colors, and features a nude collection with 80 different shades.
The brand's name also has a very empowering message behind it. "Savage is really about taking complete ownership of how you feel and the choices you make," Rihanna told Vogue. "As women, we're looked at as the needy ones, the naggy ones, the ones who are going to be heartbroken in a relationship. Savage is just the reverse. And you know, guys don't like getting the cards flipped on them — ever."
You TELL it, Rihanna.
Okay, now let's take a look at what the collection has to offer. Get ready for things to get a little ~sweaty~ in here.
https://www.instagram.com/p/BiZ2Cn2Hwnk/?taken-by=savagexfenty
https://www.instagram.com/p/BicaTnKHfGj/?taken-by=savagexfenty
We're usually forced to see women of only one body shape and size model sexy lingerie (*ahem* Victoria's Secret *ahem*), so this is such a completely new, refreshing treat. Also, literally no one is going to turn down the opportunity to see RiRi looking completely fierce in lace.
https://www.instagram.com/p/BiZ-AusHL5-/?taken-by=savagexfenty
Now, go out there and get your sexy on. Or, in the songstresses' own words: work, work, work, work, work.
https://www.instagram.com/p/BihihwqhRFP/?taken-by=savagexfenty