40+ Rihanna Quotes To Read When You Need To Borrow RiRi's Boldness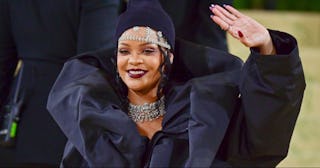 James Devaney/Getty Images
Did you know Rihanna made history with her fashion brand, Fenty? She created it under the umbrella of LVMH, making her the first Black woman to head up a fashion house (not to mention one of the wealthiest women in the world). How's that for an interesting fact? Rihanna knows what she's doing, and she owns it all. Not only has she had a successful career in music, but she's also conquering the world of makeup and lingerie. If there's one woman who can really do it all, it's RiRi. So, it makes sense that if you need a little motivation or someone to make you feel like you too can do it all, Rihanna quotes are the way to go.
Whether it's a lip kit, a new song, or a Savage Fenty fashion show, everything Rihanna does is a total vibe. As she told Vogue, "I'm not the face of my brand, but I am the muse, and my DNA has to run all the way through it. I don't want anyone to pull up my website and think, Rihanna would never wear that."
Need more of those vibes in your life? Here are some of her most memorable words of wisdom.
Rihanna Quotes to Bring Out Your Inner RiRi
"I'm really looking forward to what life brings to me."
"I always believe that when you follow your heart or your gut, when you really follow the things that feel great to you, you can never lose, because settling is the worst feeling in the world."
"I take risks because I get bored. And I get bored very easily."
"I don't do things for the response or the controversy. I just live my life."
"I could never identify with that word: weak."
"When you realize who you live for, and who's important to please, a lot of people will actually start living. I am never going to get caught up in that. I'm gonna look back on my life and say that I enjoyed it – and I lived it for me."
"Don't hide from who you are."
"Hurt me with the truth. Don't comfort me with a lie."
"It's only up from here, no downward spiral."
"I stand up for what I believe in, and a lot of the time, that can be against people's opinions."
"Be a girl with a mind, a bitch with an attitude, a lady with class."
"That's all I could ever hope for, to have a positive effect on women. 'Cause women are powerful, powerful beings. But they're also the most doubtful beings. They'll never know — we'll never know — how powerful we are."
"People take the little bit of information they're fed, and they draw a picture of who you are. Most of the time, it's wrong."
"God just has a way of working things out the way he wants to and you have no say in that."
"I'm crazy, and I don't pretend to be anything else."
"You have to just accept your body. You may not love it all the way, but you just have to be comfortable with it, comfortable with knowing that that's your body."
"People think because we're young, we aren't complex, but that's not true. We deal with life and love and broken hearts in the same way a woman a few years older might."
"I think a lot of people are afraid of being happy because of what others might think."
"You may never be good enough for everybody, but you will always be the best for somebody."
"People gonna talk whether you doing good or bad."
"Sure, you wish you did some things differently. But there is no sense in becoming burdened with regret over things you have no power to change."
"I used to feel unsafe in the moment of an accomplishment — I felt the ground fall from under my feet because this could be the end. And even now, while everyone is celebrating, I'm on to the next thing. I don't want to get lost in this big cushion of success."
"If you don't live your life, who the fuck will?"
"Ask God for forgiveness, and leave your regrets in the past."
"It's tougher to be vulnerable than to actually be tough."
"When it's over and it's gone, you almost wish that you could have all that bad stuff back so you can have the good."
"The bottom line is that everyone thinks differently."
"It's nice to look back on your life and see things as lessons, and not regrets."
"Nobody can understand what you're feeling unless they burn the way you burned."
"Keep your eyes on the finish line and not on the turmoil around you.
"I believe everybody's an individual. You can't judge someone based on someone else's actions."
"I try my best to avoid the sharks of life, but I have had my share of experiences with them. But I do not swim with sharks … sharks swim with sharks."
"When I see myself as an old woman, I just think about being happy. And hopefully, I'll still be fly."
"There's a long way to fall when you pretend that you're so far away from the earth, far away from reality, floating in a bubble that's protected by fame or success. It's scary, and it's the thing I fear the most: to be swallowed up by that bubble. It can be poison to you, fame."
"If someone is right for you, you'll know it."
"Let go of the things that make you feel dead! Life is worth living!"
"They want to be empowered. They want hope. They want love; they want all the things that I want, and I'm not afraid to say those things and act on them, and I think that's why they identify with me."
"I don't leave things hanging. I will work all day in a meeting, leave that meeting at 1 or 2 a.m., and then come home with a tiny group of staff and work until 5, 7 a.m."
"Pretend… I mean, it's either that or cry myself to sleep. Who wants to do that? You wake up with puffy eyes the next day; it's a waste of tears."
"When I was 14 and first started going out, I always wanted to be the opposite of everyone else. So I would go to the club in a polo T-shirt and pants and sneakers and a hat on backward, just so I would not be dressed like other girls."
"I think I'm like most people – we fear the unknown and the things that have yet to come to pass, which are the very things that don't deserve to be feared. When you give God complete control, it's very hard not to be fearless."
"I think women want freedom. They want to be empowered. They want hope. They want love; they want all the things that I want, and I'm not afraid to say those things and act on them, and I think that's why they identify with me."
This article was originally published on